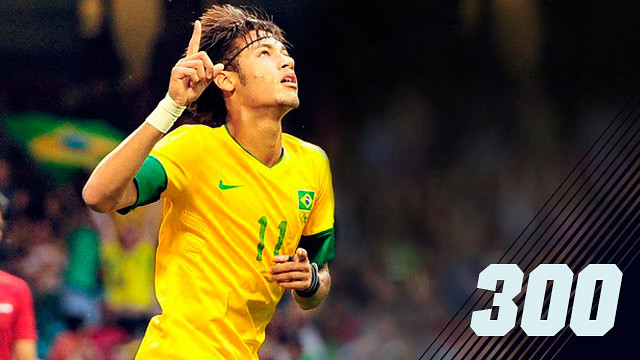 The forward has played 230 matches with Santos, 59 with Brazil (senior and youth teams), and 11 with FC Barcelona
This Wednesday Neymar Jr made his debut in one of the most important competitions in the footballing world. The match against Ajax was his first in the Champions League, it's a debut that coincides with another landmark moment in the player's career: yesterday's match was Neymar Jr's 300th match as a professional footballer.
He was only 15 years old when he made his debut with Santos and during his five seasons at the Brazilian club he featured in 230 matches. As for his international career, he made 59 appearances between the senior side, the Brazil Olympic team, the U20 and U17 teams. With his new team, Barça, the 21-year-old has played a total of eleven matches – eight of them official and three friendlies – which takes his tally of professional matches played to 300.
181 goals and 94 assists
In his 300 matches the Brazilian has scored a total of 181 goals – an average of 0.61 goals per match. In addition to his goalscoring prowess, Neymar has also shown that he's adept at setting goals up. In fact, in his last three matches with Barça he's given out three assists; his latest was against Ajax when he crossed the ball in for Piqué. In total, Neymar has doled out 94 assists throughout his professional career.
In 2013, Neymar has played 50 matches and scored 26 goals and given 21 assists.
ALL ABOUT NEYMAR