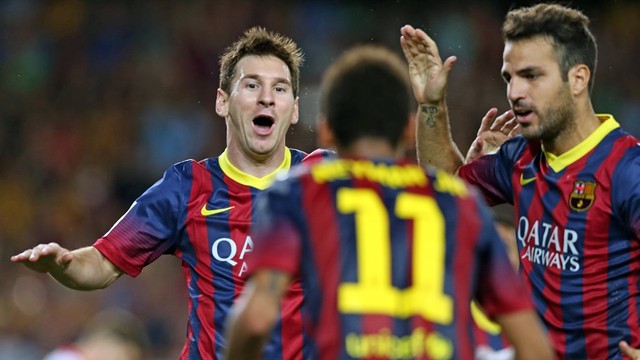 The Argentinian is top scorer in La Liga, and has now scored 16 goals in 16 games against sides managed by Unai Emery
We take a look back at some of the trivia produced by the Barça v Sevilla game on Saturday night, starting with yet more achievements for Leo Messi:
– Messi is top scorer in the league with six goals in three games. He got two against Levante, three against Valencia and one more last night against Sevilla.
– The Argentinian has now scored 16 goals in 16 games against sides managed by Unai Emery.
– The teams Messi has scored most goals against are Atletico Madrid (20), Real Madrid (18), Osasuna (16), Sevilla (16), Zaragoza (14), Valencia (14) and Athletic Bilbao (13).
– Neymar has supplied two assists in the league, both for Messi.
– Alves scored the first header for Barça this season. It is four years since the Brazilian last scored with his head – against Malaga on March 22, 2009.
– Alves scored Barça's 3,500th goals as the home side in La Liga. FCB are followed by Real Madrid, with 3,471, goals at home and Athletic Bilbao with 2,909.
– It is two years since Barça last scored a league goal involving two defenders. Dani Alves was also involved in the last example, when he and Bartra produced the goods.
– Barça have won 17 consecutive league games at the Camp Nou. But they have a long way to go before beating their all-time record of 39, set in 1960 (39), although the 21-match streak of 1974 is not far off.
– Martino is only the fifth FC Barcelona manager to ever win all four of his first league games in charge. The other coaches to do this were Brocic (1960), Venables (1984), Van Gaal (1997) and Vilanova (2012).
– Barça is only the second team to ever win the first four games in two consecutive leagues. Real Madrid also did this in 1961 and 1962.
– Barça once again had most of the possession (63%) and shot 19 times, 10 times on target.