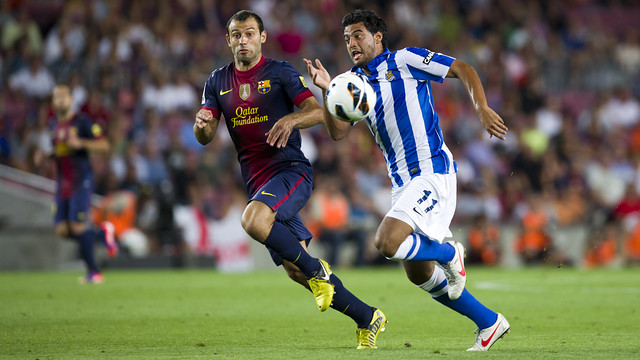 The league leaders, without Cesc, take on the surprise team from last season, Real Sociedad
La Liga isn't letting up. 70 hours after the 0-4 thrashing on Rayo at Vallecas, Barça will take on Real Sociedad (20.00, Canal Plus), the cinderella team from last season and current Champions League contenders. In fact, only Real Sociedad and Real Madrid were able to defeat Barça last season, a stat that speaks to the Basque team's attacking power.
Cesc rotates out
Tata Martino will make changes to his starting line-up. Cesc Fàbregas wasn't named to the squad for technical reasons, while Sergio Busquets is back in the rotation after missing out on this weekend's match against Rayo. In addition, Alves and Iniesta, neither played this Saturday, could be back in the starting line-up. It's worth noting that one of the 19 players named to the team will be cut from the squad before kickoff.
Misfiring Real Sociedad
Real Sociedad haven't started the season off on the most brilliant foot. Despite having one of the best attacking line of the league, the team managed by Jagoba Arrasate have found it difficult to score. They didn't get on the board in their last three matches, against Málaga (0-0), Shakhtar Donetsk (0-2) and Levante (0-0) and they haven't won a match since their game away to Lyon (2-0), which was followed by a defeat to Atlético Madrid (1-2).
Nearly a month later, the Basque side will try to recover their goalscoring ways at the Camp Nou. They certainly have the players to do so.