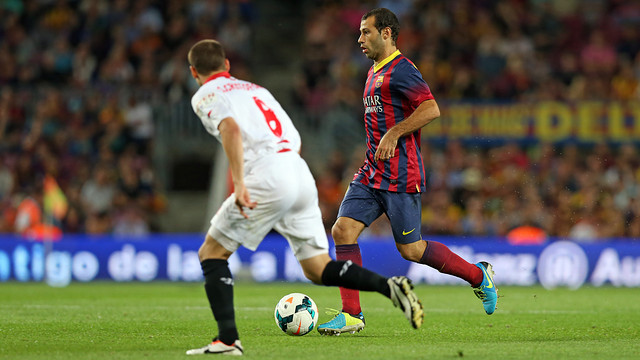 The Argentine midfielder celebrates his team's victory but he warns that "we have to improve a lot"
Barça came away with the three points from the hard-fought match against a combative Sevilla side this evening. The Blaugrana were made to sweat for the win in the dying minutes of the match due to Sevilla's organised defence and ambitious play. Mascherano, one of the standout players of the night, said "we have to improve a lot, because of our errors they tied the match." From victory, to a draw and in added time, Alexis' goal… all in all it was a nail-bitting finish: "We were lucky to win but it won't always be this way. Everything will get more difficult in the future," said the Argentine.
When asked about conceding goals from corner kicks, Mascherano was clear: "It's not about the corners. What we can't allow is have a 2-goal lead and have what happened happen." The Argentine, however, went on to say that "this doesn't mean that we played poorly. There are just our errors and we have to minimise them."
Mascherano's performance was so brilliant that the fans at Camp Nou chanted the player's name during the match. When asked about it after the game the Argentine shied away from the limelight: "The most important thing isn't individual performance, it's how we achieve our goals as a team."
Alves the goalscorer
"I don't celebrate goals against Sevilla. I have special affection for them, they opened the door to Europe for me," said Dani Alves to BarçaTV after the match.
"It was a very intense match, there was a lot of quality on the pitch," said the Brazilian right back. "They really hurt us with their counterattacks, but the result had to be ours because we had more chances."
With four victories out of four games in the league, it's time to focus on the Champions League: "It's a different competition. We need to change our mentality." Alves believes that the players "need to give just a little bit more. We have to prepare ourselves well." When asked about Barça's next rival, Ajax, the defender said that "they are a team – a school – that like to play football."
Here are the statements made by some of the Barça players after the match:
Busquets:
"It happened the other day, and this can't happen. In the end it was only a scare but we can't let it happen again"
"I'm not a different player with Tata. I have to focus on not going forward. He wants us to recover the quality of pressing the opposing team, but the play and the philosophy is the same"
Valdés:
"Our inertia going forward for goals allowed Sevilla to have space when they were on the attack and they took advantage of that"
"At certain moments there wasn't much control and that helped Sevilla get back in the game"
"The games between Barça and Sevilla are always very competitive and that's why we value this victory"
"The referees can make mistakes, but I don't think it was decisive"
Alexis:
"We are Barça. We have to continue on this path"
"I was lucky because the ball came to me and I was able to score the match winning goal"