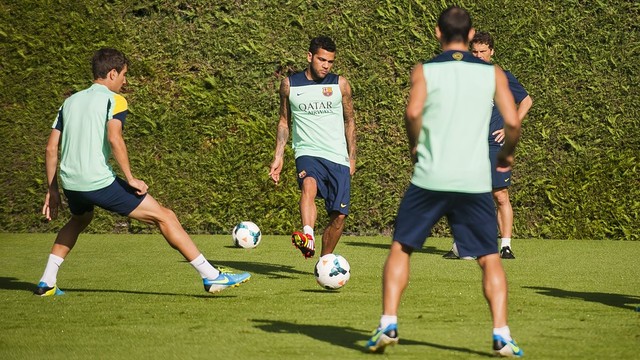 The Barça manager is back in Barcelona and took training today, with Dani Alves also back with the squad
Puyol worked out on his own, and the B team's Samper, Calvet, Denis Suárez and Campins joined the nine available first team members
After a few days attending to personal affairs in Argentina, taking advantage of the international break, Gerardo Martino is back in Barcelona and took Tuesday's training session with the nine available first team players, plus Samper, Calvet, Denis Suárez and Campins of Barça B.
Dani Alves was finally back with the squad, and Sergio Busquets also did part of the session. The Brazilian has tendinitis in his right ankle, for which reason he reported back from international duty ahead of schedule, while Busquets is recovering from a pulled muscle in his right femoral biceps.
Puyol on the field
Carles Puyol is also battling to get fit, and on Tuesday continued working in isolation from the rest of the group.