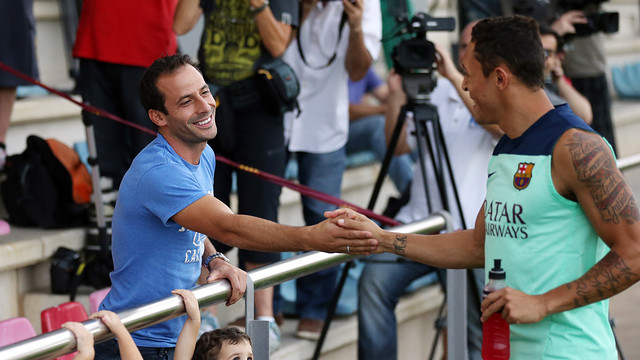 The former FC Barcelona player watched Messi grow as a footballer and he admits that he "preferred to leave the team because Messi was very strong"
He has very fond memories of his time as a Barça player: "The three years I spent here were fantastic"
The former Barça player Ludovic Giuly sat down with Barça TV and fcbarcelona.com on Sunday to talk about his brilliant FC Barcelona career and to give his impressions on Tata Martino's team. "The three years I spent here were fantastic. We had a great team and we were very strong. We won a lot of titles," said the Frenchman.
Many Barça fans remember his excellent goal in the first leg of the 2005/06 edition of the Champions League at the San Siro, against AC Milan. "People always talk to me about the goal I scored against Milan," said Guily, "it was very important for me and the team, but it wasn't just that goal, I spent three years of happiness here."
When Messi was a substitute…
Giuly's time at Barça coincided with the budding career of a young Argentine, Leo Messi. The Frenchman recalled how Messi's rise to stardom influenced his decision to leave the team: "I saw Messi grow up, I played three years with him. The last year was complicated for me. I preferred to leave the team because Leo was very strong. Now I'm very happy to watch him. He's phenomenal, I think everything he's done to be where he is now is very important, he's worked hard. I'm very happy for him."
Barça, a great club
"Barça is a great club, very familiar. It has that special something that makes you feel good, both the Club and the city," explained Giuly.
Lastly, the Frenchman talked about Tata Martino's arrival to the Barça bench. "It's a new era for the team, but they look good. There's a new manager and a new atmosphere, that's good for the Club and for the players," he concluded.