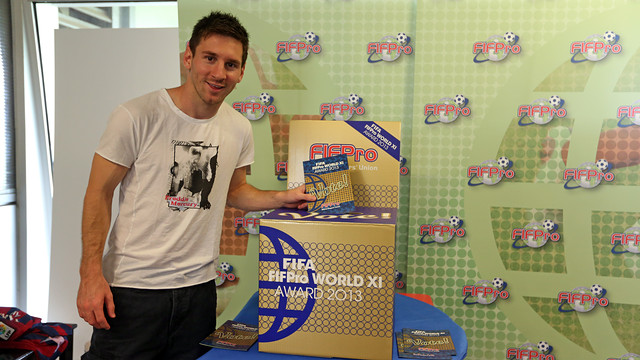 The Argentine casts the first official vote for the 2013 all-star team

Last year's team
Casillas; Alves, Piqué, Ramos, Marcelo; Iniesta, Xabi Alonso, Xavi Hernández; Messi, Ronaldo and Falcao.
Leo Messi kicked off the voting for the FIFA FIFPro World XI this Thursday afternoon. The FIFA FIFPro World XI is an all-star team made up of the best players in 2013, the members of the team are selected by professional footballers from around the world. The Argentine cast the first vote for this year's team seeing that he was named the world's best footballer in 2012.
"It's a joy to be here, to once again be the first to vote," said Messi, who added: "it's an honour because it's a vote that involves my colleagues and it's the only award that's given out based on the vote of footballers from around the world. They know how to appreciate the qualities of a player and that is what makes the FIFA FIFPro such a significant prize."
This is the ninth year in which FIFPro has organised the vote for the selection of the all-star team – a process that involves sending out over 50,000 ballots to 68 countries. The eleven players to get the most votes (in a 4-3-3 formation) will be awarded on Monday, January 13, during the Ballon d'Or gala in Zurich, Switzerland.