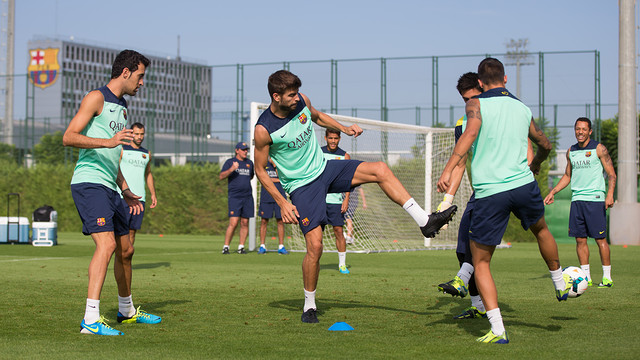 The 9 available players were joined by Busquets this morning in a session led by Jorge Pautasso.
Alves worked with the physios on the tendinitis in his right ankle.
The first team squad – less the internationals – were back in training this Monday morning after a couple of days break. The session was led by Jorge Pautasso, who was able to count on the nine available players plus Sergio Busquets. The Catalan midfielder took part in some of the session, as he continues his recovery from the thigh injury which ruled him out of the Spain squad.
Alves working with the physios
Dani Alves has returned from the Brazilian squad and worked with the physios on the ankle problem that kept him out of the game against Australia. Alves was examined by the Club doctors on his return from Brazil, who believe he is recovering well from his tendonitis.
Carles Puyol continued with his own recovery from injury away from the rest of the group.
The squad will be back in training on Tuesday morning at 10.00, when Tata Martino will take charge.