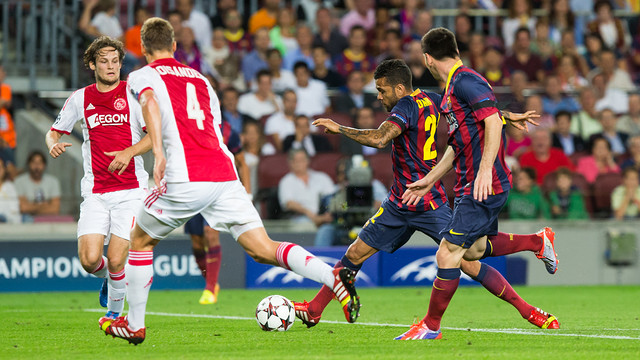 The Brazilian feels the team is making good progress despite not always looking too sharp on their Champions League debut
The right back spoke about how the defence was reorganised in the second half against Ajax, after which Barça improved considerably
As he seeks to get Barça back to the same level as in previous seasons, Tata Martino is making adjustments to the FCB machine. This period of change might mean that the team doesn't always produce the same level of excellence, as was particularly evident in the first half against Ajax.
Dani Alves spoke about this on 'El Marcador', the Barça TV show, saying "we are still in transition as we seek our best version and it's evidently not easy. I think we're on the right track, and although we've made adjustments to the team, we're still winning". After all, Barça ended up winning by a handsome margin, 4-0 against none other than the Dutch champions.
Tactical changes
Alves explained that they are looking into new ways of getting through on goal. "What we're doing is not so different, but we are introducing new things to counter certain teams that just come to defend and we're looking into ideas for creating more goalscoring chances".
He does agree that "we know that there are still things to do, how the team should be coordinated when creating pressure or bringing our lines together more." But he assured viewers that things will work out in time.
Against Ajax, Barça looked particularly unsteady in the first half, and Alves put that down to a possible "lack of intelligence. If we couldn't press forward to perfection then perhaps we needed to take a step back and organise ourselves better, because we left a lot of space open at the back and they could have hurt us bad. We spoke about it in the second half and things improved".
Messi, Valdés and Neymar
Messi and Valdés are much to thank for the 4-0 win, the former for a hat trick and the latter for some deceive saves. "Those players help us a lot" said Alves. "That's why they're here, because they're the best. They're different from the rest. When we need them, they always respond."
Finally, he had words for his compatriot Neymar, who "is an easy lad to get on with. He's modest even though he's one of the best. He's still learning and trying to improve, both professionally and personally. It's not easy when people come here thinking they already know it all, but he hasn't come with that attitude".