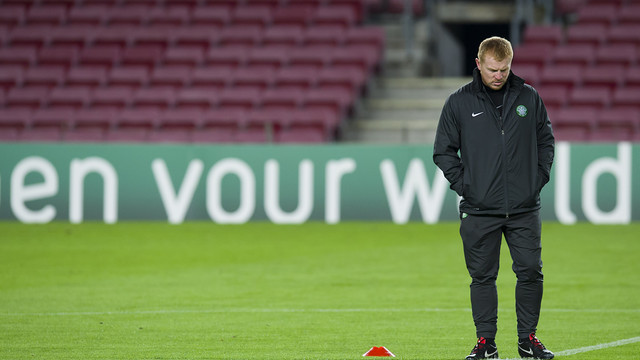 Celtic manager Neil Lennon isn't "expecting much" from tomorrow's match and he highlights that "if we get anything good out of the game it will be an important step to move forward"
He believes that Forster and the forward Samaras need to put in good performances if Celtic are to beat FC Barcelona for the second time in as many matches
Co-leader of the Scottish Premier League, level on pints with Inverness CT, Celtic FC will host FC Barcelona at Celtic Park for the second time in as many years. A year ago, Neil Lennon's men defeated Tito Vilanova's team (2-1) with a defensive approach that the Blaugrana were unable to break down. Now, despite that victory, the Scottish team "aren't expecting much" from tomorrow's math, according to Lennon.
He added: "if we get anything good out of the game it will be an important step to move forward." Celtic are currently on 0 points in group H, after losing to Milan at the San Siro (2-0) two weeks ago.
[[CITA_1]]
When asked about Messi's absence, Lennon said, "it's very good for us because he's the best player in the world. However, there's some sadness because it's always fantastic to see the best players play in Glasgow."
Along these lines, Virgil van Dijk, Celtic full back, believes that "Messi is world class player and his absence will be felt by Barça, but they have very good players that can cover for him."
[[CITA_2]]
For Lennon, the key to tomorrow's match centers around how well his men play on both sides of the pitch. "Forster is one of the best keepers in the competition and Samaras has tremendous influence in European matches and he likes these kind of challenges," explained the manager.
It's very good for us that Messi won't play because he's the best in the world
Forster is one of the best keepers in the competition and Samaras has tremendous influence in European matches