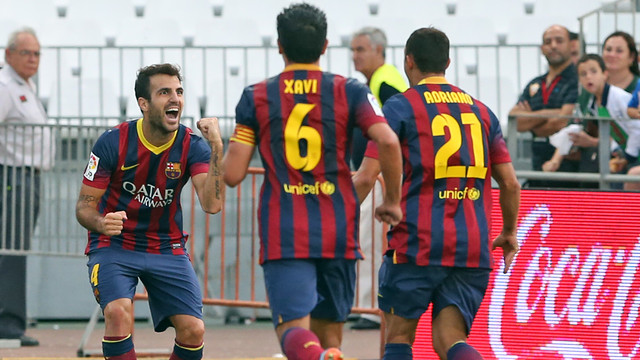 Barça's win in Almeria makes this the best ever start to a league season
Messi scored another brilliant goal on 20 minutes, before going off injured five minutes later.
Seven out of seven. Whatever else happens this season, 2013/14 will go down as a record breaking start to a league season. The 0-2 win in Almeria wasn't without problems – most notably Messi's injury soon after he had scored another superb goal, but a solid second half performance gave Barça the win and the record.
Space at a premium
The boss continued to rotate his squad and left both Neymar and Xavi out of the starting line up, with Cesc, Bartra and Pedro coming in. Barça started well enough, exchanging passes and playing patiently, but although they dominated possession and were probing away at the Almeria defence, the hosts were closing down spaces, particularly around Iniesta, Cesc and Messi. With Busquets tidying up and wining back the ball, Iniesta threatened with a shot from outside the box on six minutes and soon after Piqué misdirected a header on goal.
Messi goal and injury
On 20 minutes, Leo Messi scored yet another brilliant goal – collecting a one-two from Pedro and curling in his shot from the edge of the area, unfortunately the world number one was unable to build on that, coming off with a muscle twinge five minutes later to be replaced by Xavi, with Cesc slotting into Messi's false number nine role.
The changes unsettled the team a little, and Almeria began to threaten on the break – particularly through the lively Suso and Aleix Vidal – with Rodri drawing a good stop from Valdes just before half time.
Xavi takes charge
The break came at the right time for Barça, who soon established control again in the second half, controlling possession and with Xavi orchestrating things, they took the pace out of what had become a frantic game. The Catalan midfielder set up goal number two on 56 minutes, beating a man on the edge and releasing Cesc to centre for Adriano to slot home. That goal seemed to take some of the wind out of Almeria, who also lost power with the substitution of some of their more important players.
Barça's domination was pretty much total after that and Bartra – who put in another good performance and nearly made it two goals in two games- and Tello both came close to adding to the goal tally.