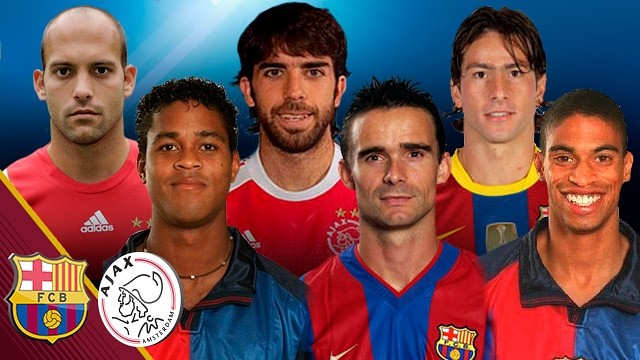 Johan Cruyff was the first Ajax player to sign for FC Barcelona, and the latest player to make the trip (inverse) is Bojan Krkic (loan)
De Boer, who played for FC Barcelona for five season, is the current manager of the Dutch team
The relationship between FC Barcelona and Ajax started in the 70s, when Johan Cruyff signed with for the Catalan Club (1973). Forty years later, and keeping in mind that the two teams have never faced off in an official match before, we're taking a look at the players that have signed for Barça from Ajax, vice versa or players who have simply played for both teams.
From Cruyff and Neeskens, to Maxwell
After Cruyff's arrival (1973-1978), a total of 13 players made the switch from Ajax to Barça, albeit not all of them directly. Some of the players are well known, others stayed at Barça for many years and others played a discreet role during their time at the club.
Johan Neeskens (1974-1979), Richard Witschge (1991-1993), Jordi Cruyff (1994-1996), Frank de Boer (1998-2003), Ronald de Boer (1998-2000), Winston Bogarde (1998-2000), Patrick Kluivert (1998-2004), Michael Reiziger (1997-2004), Jari Litmanen (1999-2001), Marc Overmars (2000-2004), Edgar Davids (2004), Zlatan Ibrahimovic (2009-2010), Maxwell Scherrer (2009-2012). Of these, Witschge and Maxwell won the Champions League with Barça.
Reverse route
The first player to don the Blaugrana strip and then, after playing for other teams, sign for Ajax was Micheal Laudrup. The talented Dane played for Barça for five years (1989-1994) and he finished his career in the Dutch team (1997-1998). The other five former Barça players to sign for Ajax are Gabri García (2006-2010), Roger García (2006-2007), Oleguer (2008-2011), Isaac Cuenca (2013) and Bojan Krkic (2013).