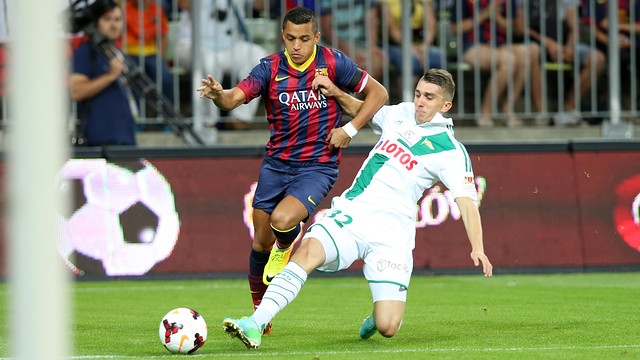 The Chilean forward, who has started four times for Barça this season, says that Tata Martino has given him a lot of confidence
Alexis Sanchéz is singularly focused on what he believes is the recipe for success: confidence. The Chilean, who has talked about this very subject on various occasions, said that his excellent start to the 2013/14 season is due to his increased confidence.
"The confidence of a player is everything … If he's given confidence on the pitch, a player can do a lot of things. I feel good this year, very comfortable and I have a lot of confidence," said the FC Barcelona forward. When asked about Tata Martino's arrival to the Barça bench, the Chilean said, "he gives me a lot of confidence, this allows me to be myself on the pitch."
The start of this season has seen Alexis Sánchez in each and every one of Barça's starting line-ups in official league and Super Cup matches, with the exception of the match against Valencia, when he didn't make the squad along with Xavi. The Chilean scored in the first match of the league, which ended in a 7-0 thrashing of Levante.
[[CITA_1]]
Chile will face off against Spain in Geneva on Tuesday at 20.00. Alexis is "pleased" with the match up because he'll be able to test his mettle against some of his FC Barcelona team-mates. It will be a complicated match for the South American side, who are very close to qualifying for the Brazil World Cup, seeing that they've only tied once and lost eight of their last nine matches against the reigning World Cup champions.
During the pre-match press conference in Geneva, Alexis also talked about his relationship with Leo Messi: "We get along great on and off the pitch."
Messi and I get along great on and off the pitch