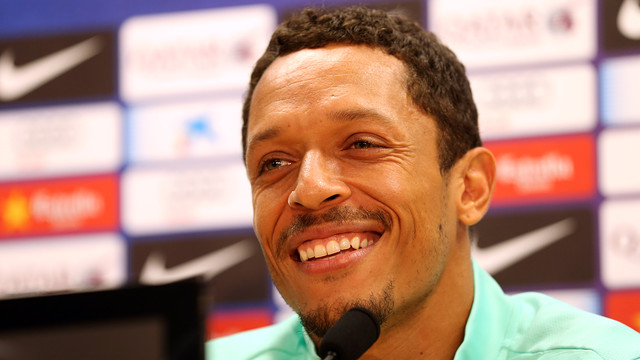 The Brazilian revealed that he's doing gym work to "build up my strength and stamina" and also claimed: "I'll play at centre half if needed".
After today's training session – the second since the return of the Club's international contingent – Adriano Correia spoke to the press at the Ciutat Esportiva this lunchtime. The Brazilian, who spent six seasons at Seville between 2005 and 2010, admitted that games against the Andalusian team: "are always special, even though they are going through a tough period right now".
Emery's sides always a challenge

Although Unai Emery's side have only taken 2 points from their first three games, Adriano warned: "Emery's teams are always a challenge, whether at home or away. It'll be a tight game and won't be too different from many of the others we've had on many occasions", according to Adriano.
[[CITA_1]]
The Brazilian has proved his versatility on the pitch and again insisted he will play wherever the boss wants him to: "I can play in a number of roles and I'll play at centre half if needed, because I've done that in training too. Tata trusts me, which is important, and if I have to play right back, left back or on the wing, wherever – I just want to do it well". Adriano also referred to the new coach, explaining: "Tata hasn't come here to change things, he just wants us to remember and repeat what we have been doing, because Barça's philosophy doesn't change".
Improving as a player
Adriano is starting his fourth season at the Club and after overcoming a number of injury problems last season, he insisted today: "I'm always trying to improve as a player. It's a pity that the injury I had last season, which isn't a usual football injury. I'm working in the gym to improve my strength and stamina, I've been working harder on this since the end of last season".
[[CITA_2]]
"It's an honour to have Neymar here"
Neymar was the only new signing at the Club this summer – apart from B team players Sergi Roberto and Oier and Adriano believes "it's an honour to have him here". The Brazilian isn't worried about the reception Neymar might get in the Spanish League either: "Neymar is used to getting a tough ride on the pitch. In Brazil he picked up a lot of knocks. He just has to keep playing his way".
Emery's teams are always a challenge, whether at home or away.
Tata trusts me, which is important, and if I have to play right back, left back or on the wing . wherever – I just want to do it well