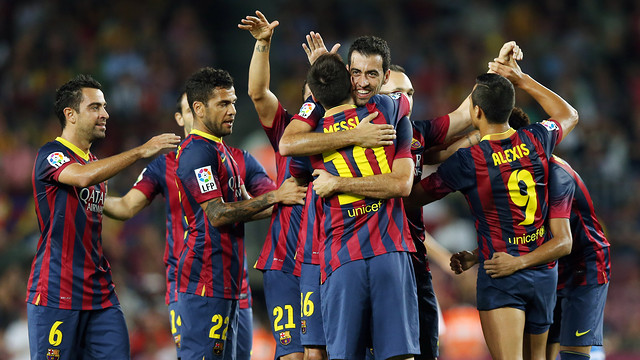 Messi, Neymar, Pedro, Alexis, Cesc, Xavi, Piqué, Adriano, Alves, Sergio and Bartra have all scored at least one official goal this season
We look at some of the interesting facts surrounding last night's win over Real Sociedad:
---
– Following the goals scored by Sergio Busquets and Marc Bartra, no fewer than 11 different players have now scored for FCB in official matches this season.
---
– Marc Bartra hadn't scored since May 2011 in Malaga. Last night he got his second goal for Barça.
---
– Sergio Busquets has scored nine in 243 games for FC Barcelona. He got three in 2008/09; one in 2009/10; another in 2010/11; two in 2011/12; one in 2012/13; and has one so far this season.
---
– Messi got his seventh league goal of the 2013/14 season and stays top of the goalscoring table.
---
– With 323 official goals, Messi has equalled Raúl and has Zarra in his sights (335 goals).
---
– Messi has scored in the last 13 league games at the Camp Nou, every one since the win against Zaragoza last term.
---
– The Argentinian has scored from 14 headers during his career, 13 times for Barça and once for his country.
---
– The 13 headers for Barça make up 4% of his overall total. This was his first headed goal since January 24, 2013.
---
– Neymar scored his first league goal in his sixth appearance. Coincidentally, two other Brazilians, Romario (1993) and Rivaldo (1997), also scored their first Barça goals against Real Sociedad
---
– Neymar has given an assist in his last five matches, against Valencia, Sevilla, Ajax, Rayo Vallecano and Real Sociedad.
---
– On Tuesday, Barça completed 93% of their passes, the team's highest tally of the season.
---
– Barça ended the game with Real Sociedad with nine products of its youth system on the field.
---
– Barça have never lost a league match played on Tuesday. So far, they have won 17 and drawn four.