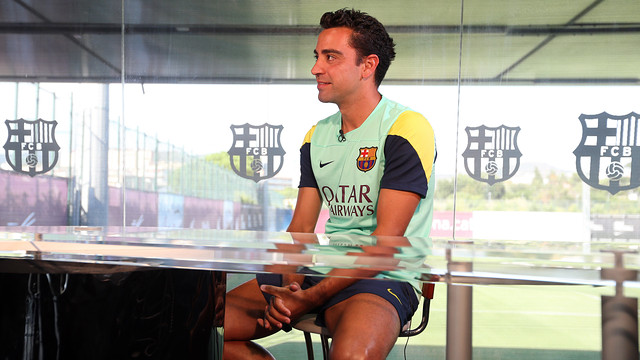 Reflecting on his own fitness and form, Xavi reckons: "I feel better than ever – even more excited than when I first began"
The midfielder is convinced that Tata Martino has a squad to fight for the League, the Spanish Cup and the Champions League
Confidence in the players at the Club
Asked about the centre half role at the Club – concerning which there has been much transfer speculation in the media, Xavi inisited: "I trust the players we have got. We have a lot of good players. Bartra is now in the first team, Mascherano has adapted well to teh position and with Piqué and Puyol we have a group of great centre halves. The boss also has faith in them and I am sure they will do a great job".
Xavi Hernández marked 15 years with the first team on August 19th and in an exclusive interview to BarçaTV and www.fcbarcelona.cat, the 33-year-old Catalan expressed his conviction that this season the Club, boosted by new signing Neymar, has a squad to once again win a historic treble of League, Cup and Champions League- "Barça always demand to win everything". First up, there's the second leg of the Spanish Super Cup this Wednesday and Xavi reckons: "we have to take advantage of Neymar's goal in Madrid – it could give us the title".
You could claim your 22nd title this Wednesday – but you will be up against a very strong side.
"Yes, physically and especially in defence, Atletico Madrid are very strong. They have a coach who works hard on defence and with two lines of four, they hardly allow any space – their forwards also chip in and help. They are a good side and showed us why they have achieved so much. It won't be easy, but we had a good result in the first leg and an away goal is always important".
[[CITA_1]]
Do you expect Atletico to play the same way they did at the Vicente Calderon?
"I think so, yes. It's a style they've worked hard at and they are strong at the back and on the counter. It's a direct style that they use to find Diego Costa and they try and take advantage of set pieces. We have to try and move the ball quickly, we'll be on a pitch we like and that's a point in our favour.
Neymar's goal could prove decisive. An away goal in this type of match really helps. I think it came at a good time for us, we'd been patient and although you don't get many chances against Atletico, we bided our time. In fact we only had two or three clear chances and we have to take advantage of Neymar's goal – it could give us the title".
You completed 15 years with the first team a few days ago – has the reality of that been better than you even dreamed?
"Well it's a long time and I am very happy and proud of all the years I've been here at Barça – the Club of my life and the best in the world. I've had a lot of success here – particularly over recent years. I've been very happy here and I still am, with three more years on my contract ahead of me. I hope I can stay at the high level such a demanding Club requires. Every player wants to be important for his Club and recognised as such".
What's your best memory of your time at the Club so far?
"The best memories are always of when you win something and when you are given recognition. I've been lucky enough to win individual awards, but the best thing is when as a collective you win thing like Cups or the League or the Champions League. When it all comes right and you are where you consider to be your home, then it's even better".
Do you think you are a reference point for the squad?
"I always try and make sure people feel comfortable. Puyol, Víctor (Valdés) and Andrés (Iniesta), who are captains too, try to keep everyone happy, because tha helps how they perform on the pitch. It's a collective responsibility to make sure everything works and that's what we try and do- You have to help anybody who needs it, especially the youngsters coming through".
What do you do to help those youngsters?
"We try and treat them as one more in the squad and avoid any distance between them and the more experienced players. They have to feel good about being in the team and see that they can always come for help. There was maybe more of a hierarchical system in other moments, but the group we have now are united and the younger players know they have the whole squad's backing".
You're 33 now, are you still as excited about the game as when you began your career?
"You don't lose that feeling, no. I think if anything I am more excited now than when I started out, because there are more demands and it's harder with each year. There's a lot of competition and everyone has to show they are worth a place in the team".
[[CITA_2]]
And how do you feel physically?
"Better than ever. I've suffered a few serious injuries in the past, but I've started really well this year, with a good pre-season and I'm all ready, physically and emotionally for whatever comes my way now. It's true that we play a lot of games and the fixture list is quite demanding, but we have a big squad and it's the coach's job to manage the squad for all those games",
Have Barça got a squad to fight for all the titles?
"Yes. At this Club you are always expected to win and I think we have a team that can do that. We've been through some tough times with Tito falling ill again and we have all had to adapt, but I think we the team is fine now. We've started the season really well, with a spectacular debut at the Camp Nou and I think we can compete for the Cup, the League and the Champions".
How is Neymar settling in?
"Very well. He's a quiet guy, he's still young but he's showing a lot of intelligence. The boss is bringing him in slowly and he's showing his worth. At the Calderón he gave us an extra spark and he's very good in one on one situations, which is important for us. When teams close us down, we need wide men who can take men on and he's a player who is able to really make a difference. He can get in the box, he can score and he is set to really make a difference at Barça".
The new coach is the main difference this season. What is Tata Martino like?
"He's very approachable. He talks to you a lot and tries to reach agreements with the players. He fits in with the team perfectly, he's a natural leader and he communicates a lot. He gets his message across clearly and he's easy to understand. He's adapted really well to our philosophy and he's a born winner. He's not changed too many things, but he has introduced some small variations in tactics for example, where we've moved from a zonal marking to man marking. We are working hard at bringing out the ball and set pieces, which are important in the modern game. I was misinterpreted by some when I said that last season we weren't able to work on everything we would have liked to tactically and that's something we are working more on this year".
[[CITA_3]]
Do you think people appreciated the difficulties you faced last season, with the coach away so much?
"We all made a big effort last year, especially the coaching staff – Jordi Roura, Aureli Altimira, etc. Tito was away for two or three months and with him around we would have been stronger and more competitive. As I said, we made a big effort and we won the league with 100 points, which is really something, playing great football and scoring lots of goals. I think you have to stress that – we won the league despite it being a very tough year and that is much to our credit".
What was it like for you this summer with all the problems surrounding Tito's
"It was very hard. It was a terrible thing for all of us, but especially for him and his family of course, I hope he gets better as soon as possible because he is an extraordinary person and you can see how we miss him. Jordi Roura and Aureli Altimira have told us that he's still very aware of everything that's happening here, because he is a real football man. The best we can do is be competitive and show him the team is working well, as well as keeping in mind all he has shown us".
This is Víctor Valdés' last season at Barça, but there can be no question as to his attitude can there?
"Of course not. He has shown his professionalism down all the years at the Club. He is an example for the squad, both on a sporting and a human level. He is always, always concerned for the group and he is a real winner. Nobody can criticise his decision – he took it and we just have to respect that. He will give everything this year and we'll miss him when he has gone. I think he's the best keeper in the Club's history and we must enjoy having him here this one last year".
And how is Carles Puyol?
"He's great, as always. He's a winner and he will get over any obstacles in his way. He's had a really bad time with injuries these last couple of years and hasn't been at the level he would have liked, but I think he'll be back soon. He is the most competitive player I have ever known and I'm sure he'll be back".
Do you see Sergi Roberto as your natural successor in midfield?
"I don't like the youngsters to have to put up with those kind of comparisons. Every player has their own personality. Sergi Roberto is an extraordinary footballer, who could be here for 10, 12 or 15 years and become a leader and a captain. It's always doubly satisfying when youngsters who've come up through the Club make it".
Physically and especially in defence, Atletico Madrid are very strong. It won't be easy, but Neymar's goal could prove decisive
I feel fitter than ever.I am more excited now than when I started out, because there are more demands and it's harder with each year
Tata Martino is a natural leader and he communicates a lot. He gets his message across clearly and he's easy to understand. He's adapted really well to our philosophy and he's a born winner