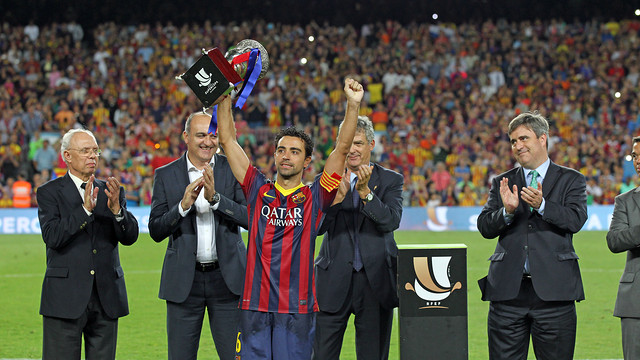 He is now tied with Guillermo Amor and Pep Guardiola for the most Spanish Supercup appearances (14)
Xavi Hernández has won his 25th major title, and his 22nd with FCB, to make him the most successful player in Spanish football history. He also broke the record for minutes played in the Spanish Supercup, 1,162, and has tied with Guardiola and Amor for the most games in the competition, 14.
Last night was the sixth time Xavi has won the Supercup, a tally he shares with Txiki Beguiristain and Bakero, as well as current team-mates Víctor Valdés, Puyol and Iniesta. The last player to win five Spanish Supercups was ex Real Madrid star Manolo Sanchís.
The following is a series of trivia from Wednesday's game with Atlético Madrid:
– FC Barcelona had a massive 74.8% of the possession last night.
– Barça made 766 passes, and completed 666 of them. Atlético only attempted 247.
–Dani Alves made the most passes for Barça, a total of 113, followed by Xavi with 107.
-It was also the Brazilian full back who won the most balls, 10, but also who lost the most 17.
-The Barça player who took on opponents the most was Leo Messi, with 11 runs.
– Barça received 26 fouls and committed just 9.