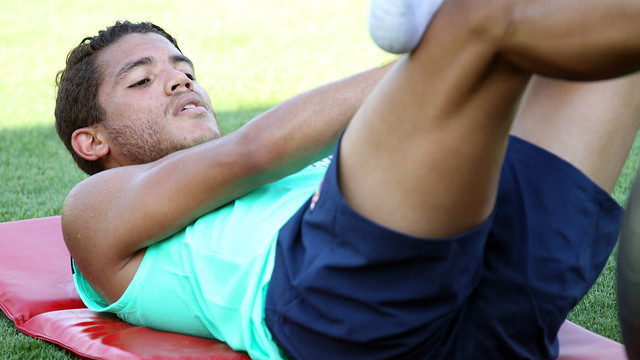 The Barça midfielder will miss Friday night's game after pulling his right quadriceps
Tello did recovery work this morning, while Barça B's Dongou and Bagnack also trained

Jonathan dos Santos will miss the Gamper against Santos. The Barça midfielder has pulled the quadriceps in his right leg and will have to sit out the traditional season opener at the Camp Nou on Friday night.
Dongou and Bagnack train
Also on the side-lines is Cristian Tello, who did recovery work on Friday morning, but Tata Martino was able to train with the rest of the first team as well as Dongou and Bagnack from Barça B. These two players will be wearing the numbers 26 and 27, respectively.
After training, the squad had lunch together at the Ciutat Esportiva. They are due to report to the Camp Nou at 19.30, two hours before kick-off against Santos.