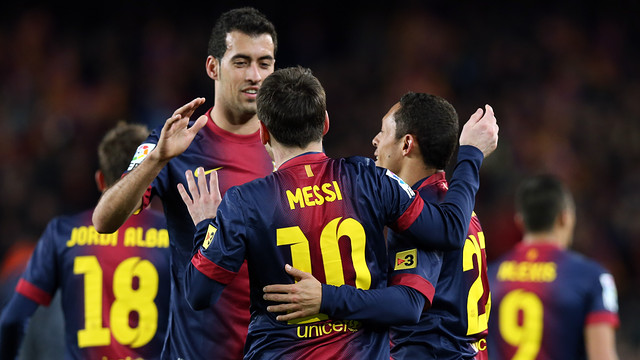 The results from last seven matches between Barça and Atlético at the Camp Nou would be enough for Tata Martino's men to claim the Spanish Super Cup on Wednesday
Since the one-all draw in the 2006/07 edition on the league – a result that would force overtime on Wednesday – Barça have defeated Atlético six times in the league and once in the Cup at the Camp Nou
Going by Barça's track record against Atlético at the Camp Nou, the Blaugrana would "only" have to maintain the trend of recent results to win the Spanish Super Cup on Wednesday. Barça have defeated Atlético in their last six league meetings at the Camp Nou and in their latest Copa del Rey showdown, which was in the 2008/09 season (2-1). In the past six seasons, the Blaugrana have outscored Atlético by 28 to 5 at the Camp Nou.
Since the one-all draw between the two sides in the 2006/07 season – a result that would force overtime on Wednesday – the results from following matches between Barça and Atlético would secure the Spanish Super Cup title for Gerardo Martino's men. In the 2007/08 season, Rijkaard's team comfortably defeated Atlético thanks to goals from Deco, Messi and Xavi (3-0). The results from the matches in the following seasons were similar (6-1, 5-2. 3-0, 5-0), all the way through last year's 4-1 scoreline (goals from Adriano, Sergio Busquets and Messi (2)). The closest match in recent memory at the Camp Nou between Barça and Atlético was in the 2008/09 edition of the Copa del Rey, the Blaugrana won by 2-1.
Simeone's Atlético Madrid will certainly try to buck the trend. However, Tata's Barça are ambitious and have the necessary motivation to secure the first title of the 2013/14 season.