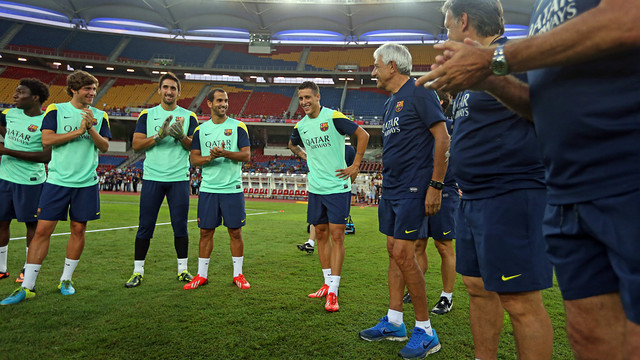 The Barça winger is over the moon about his first full international call-up for Spain
For his part, Sergio Busquets has revealed that he agreed his absence from the friendly against Ecuador with Del Bosque
Cristian Tello was without a doubt the man of the moment in Kuala Lumpur. The Barça winger found out just before the training session that he has received his first full international call-up for Spain's friendly against Ecuador next Wednesday. Tello told us: "We found out on the way to the training session. It was an incredible surprise and I'm very happy. It's a prize. I've played in the lower categories but getting to the senior squad is fantastic".
His first full international call-up comes hot on the heels of extending his contract with Barça. According to Tello, "As a footballer, I couldn't ask for more. I've renewed my deal with the best club in the world and now I'm going to make my full international squad debut. I'll try and make good use of the opportunity and enjoy it".
Ready to play
Cristian Tello has been out injured for the last two matches due to some muscle niggles. Speaking at the press conference in Malaysia he assured reporters that he's in good shape and that his objective for the season will be, "to work day by day to claim a place in the starting eleven, bearing in mind the competition".
Busquets speaks with Del Bosque
Meanwhile, Sergio Busquets explained that his absence from the international squad had been agreed with Spain manager Vicente del Bosque: "I spoke with him, we exchanged opinions and we reached an agreement". The midfielder admitted that he hasn't completely recovered from his groin problem and that it's something that
requires "a lot of care".
Asked about the possible arrival of another defender and a hypothetical move back for him into a more defensive position, Busquets explained: "There are four central defenders but I'm in the hands of the manager. Obviously it's not my position and I'm not very comfortable there, but I'm adaptable".