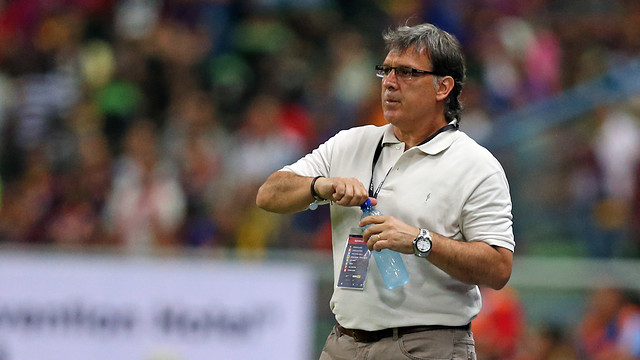 The FC Barcelona manager admitted that "we didn't see the best version of the team" this afternoon against the Malaysia XI team
"In footballing terms the tour was good despite the Club's many commitments," said the Argentinian
Barça wrapped up the 2013/14 Asia Tour with this afternoon's match against Malaysia XI, which was won 1-3 by Tata Martino's men. After the game, the Argentinian manager said: "We didn't see the best version of the team, but we're ready for the start of La Liga." It's worth noting that Barça's next match is next Sunday, when the Blaugrana take on Levante for Round 1 of the domestic competition (Camp Nou, 19.00).
Despite today's victory, the manager lamented the state of the pitch at Shah Alam Stadium: "We needed more than one touch to move the ball quickly and that conditioned our play." In fact, the match was moved from its initial venue – Bukit Jalil National Stadium – the the Shah Alam specifically due to the poor conditions of the pitch. But despite the setbacks, Martino noted, "when I signed my contract the tour was already planed, I have no complaints."
Positive evaluation of the tour
Martino went on to evaluate the Tour, which took the team to Palestine, Israel, Thailand and Malaysia. "In terms of football it's been a good tour. Despite the time change and the Club's commitments, we've been able to prepare the team well," he said.
Tata talks about his players
When asked about Leo Messi's absence due a thigh strain in his left leg, Martino noted: "It would have been risky if he had played, and we couldn't run that risk ." The manager also talked about Cesc Fàbregas' injury. The midfielder sprained the external ligament of his right ankle, further tests will be conducted to determine the severity of the injury. When asked about the player's availability for the upcoming international friendly, Martino explained that "he's not in the best condition to travel, we'll be in contact with the doctors."
Lastly, the manager talked about Barça's newest signing, Neymar, who featured in the first half of this afternoon's match. The player netted his second goal of the preseason, and was then subbed off at the break for Cristian Tello. "We are very pleased with how Neymar is performing in the games he's played," said Martino.