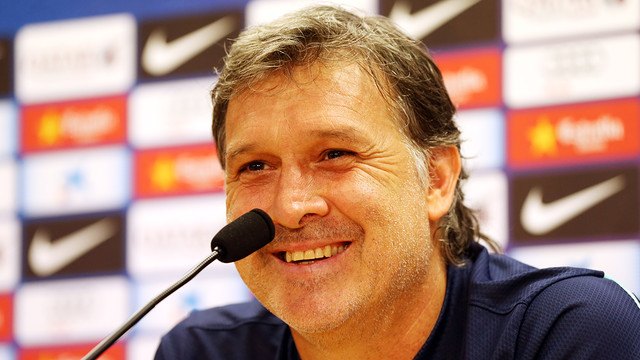 The manager will be without Messi for the Malaga game but insisted, "We have a lot of really good players to produce a good game"
Martino was clear. "Neymar is getting better and better. My intention is that when he plays he does so at the top of his game".

Tata Martino will have to face Sunday's game against Malaga without Messi, who is still recovering from a bruised thigh. The manager explained at today's press conference that, "we're very optimistic about his progress" but that the Argentine wouldn't travel "as a precaution. It's unnecessary to take risks at the beginning of the season. I'm not worried about Messi because he looks very good to me. He's prepared himself well during the holidays and has come back in great shape. The injury the other day was down to chance".[[CITA_1]]
Martino knows that Messi is an important part of the team but is in no doubt that the rest of the players are more than capable of getting a good result in La Rosaleda. "We have a lot of really good players to produce a good game and we mustn't use Messi's absence as an excuse".[[CITA_2]]
He's also clear that the injury to Messi won't force him to shorten the time available for Neymar to settle into the team. "We've got a schedule for Neymar and there's no footballing situation that will shorten it". He insisted. "Just because Messi doesn't play that doesn't mean Neymar has to take the helm". "He's looking better and better as days go by and he accumulates training and gets to know his team-mates and the Club. My intention is that when he plays, he dose so at the top of his game".[[CITA_3]]
Barça has now played two competitive matches; the 7-0 destruction of Levante and the 1-1 draw against Atlètic Madrid. Martino believes the first leg of the Super Cup is a better indication of the state of the team. "I took more conclusions from the clash with Atlético than against Levante. I believe we pressed really well". He revealed that he "didn't share" most of the assessments of Wednesday's game.
Three days after the match against Malaga it will be the return leg of the Super Cup but Martino is determined not be distracted by the prospect of a trophy and so take his eye off Malaga. "It's nice to play finals as they calm the spirit of the team and create optimism for the season. But it's also true that last year the league title was determined by what happened in the first four months. We mustn't be distracted by anything".
Messi is progressing well but it's unnecessary to take risks at the beginning of the season
Just because Messi doesn't play that doesn't mean Neymar has to take the helm
I took more conclusions from the clash with Atlético than against Levante