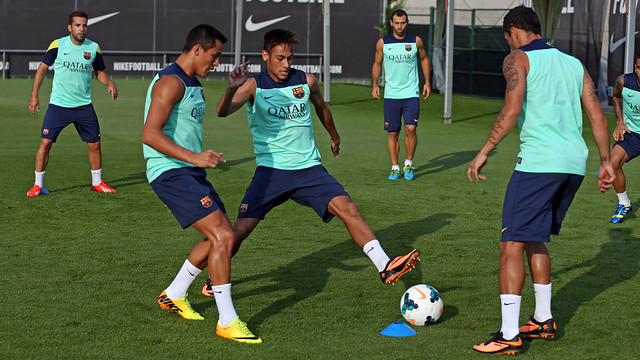 Tata Martino led today's training session with a full squad, including Pedro, Messi and Cesc
The players will have the final training session on Sunday morning to round off their preparations for the first competitive game of the season against Levante in the Camp Nou (7 pm)

Gerardo 'Tata' Martino took charge of Saturday's training session in the Ciutat Esportiva Joan Gamper and was able to work with a full squad to prepare Barça's competitive debut for the 2013-14 season against Levante in the Camp Nou on Sunday (kick-off 7 pm). The session included Pedro, Messi and Cesc, who have all recovered from their respective injury concerns.
Team captain Carles Puyol was also on hand to continue his personal fitness programme together with recovery coach Juanjo Brau. Fans will remember that Puyol had a knee operation at the end of last season.
The players will have their final training session of the week on Sunday at 11.30 am in the Camp Nou. They will then remain together until kick-off at the Hotel Princesa Sofía.