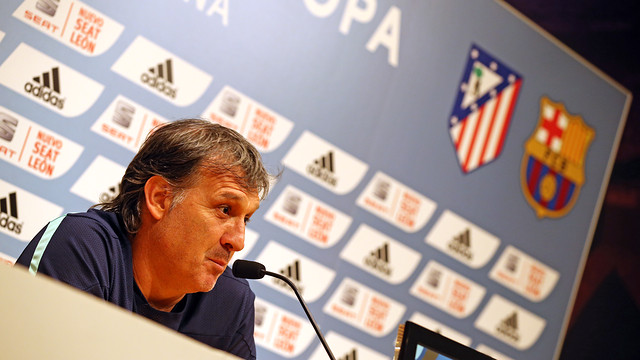 The first team manager explains that he's not keep on signing a new player before the summer transfer window closes and that "we'll be attentive during the winter transfer window if it's necessary"
"Before the first leg I said that it was logical for us to be favourites. In every competition that we play in, we're favourites," said the manager
Gerardo Martino talked to the press ahead of tomorrow's Super Cup match against Atlético Madrid. The Argentine said that Leo Messi trained normally and that "he trained harder with the players who didn't feature against Málaga." He added that Neymar "is ready to play," but he'll make the decision to field the player on Wednesday.
When asked how he feels about Barça being favoured to win the title, Martino noted that his men are well accustomed to the label. "Before the first leg I said it was logical for us to be considered favourites. In each competition that we play in, we're favourites. We have to live with that and know how to deal with it. It doesn't worry me when people say we're favoured to win," said the Argentine manager, who added that he's not expecting "a different match" to the one played at the Calderón.
Taking care of Neymar
One of the reoccurring themes in this afternoon's press conference was Neymar's fitness and the possibility of the Brazilian being named to the starting line-up. Martino, however, explained that "I have the obligation to take care of my players. And when it comes to Neymar, who is young, even more so. My aspiration is for him to be a Barça player for 10 to 12 years, not for him to fix my problems in one match. I just want things to go well for him and the way we're doing things is correct. We, the managers, do what we think is best [for the players].
"It's rare when these types of players are born, players who are accustomed to take on the pressure. These players ignite passion in the fans and Neymar is one of them. He knows how to approach the beginning of the season, he's doing very well," he said on the Brazilian.
Busquets, crucial for Barça
The manager then went on to praise Sergio Busquets, who extended his contract with FC Barcelona through 2018 this Tuesday: "Busquets is key to the team, because of how he plays and because of how the team play when he's on the pitch." Martino was then asked about possible new signings before the summer transfer window closes: "I'm happy with the players that we have now. In reference to a centre forward and a centre back, if the season progresses and we notice that we need someone, we'll be attentive in the winter transfer period."
Winning is important
"It's obvious that it's much better to start a season by winning a title than by losing one. Winning the Super Cup would give a morale boost to the team. We'll try to play our best game in order to beat them," said Tata Martino.