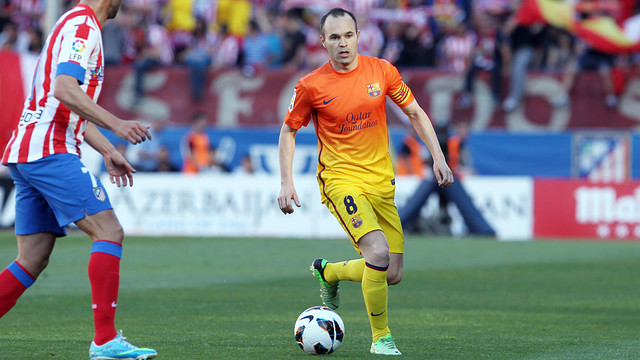 Barça and Atlético have faced off four times in the Spanish Super Cup. The record between the two sides stands at three victories for Barça and one for Atlético
Messi is the highest goalscorer of the competition with 10 goals
There are quite a few interesting stats and facts surrounding the away leg of the Spanish Super Cup at the Vicente Calderón. Let's take a look at them:
– Barça are the club with most Spanish Super Cup titles (10), ahead of Real Madrid (9). Atlético Madrid have won the tournament once, in 1985.
– Of the ten titles Barça has won, eight of them saw the Blaugrana start the competition away from home (1983, 1991, 1994, 2005, 2006, 2010, and 2011). In the 1992 and 1996 editions, Barça started the tournament at home.
– Barça and Atlético Madrid have faced off four times in the Spanish Super Cup. The record stands at three victories for Barça (1991, 1992 and 1996) and one for Atlético Madrid (1985).
– In terms of goals scored in the four previous meetings between the two teams, Barça has scored a total of 15 goals to Atlético Madrid's 11. The average of goals scored stands at 3.25 per match.
– Leo Messi is the highest goalscorer of the competition, with 10 goals from 9 matches. The Argentinian has scored three more goals than the second highest goalscorer of the tournament, Raul González.
– Atlético Madrid seem to be Messi's favourite victim. He's netted 20 times against the Colchoneros (17 in the league and 3 in the Cup). Of these 20, 8 of them were scored at the Vicente Calderón.
– Neymar, Alba, Song, Tello, Dos Santos, Bartra, Montoya, Sergi Roberto and Oier are the nine first team players who have yet to win the Spanish Super Cup. Xavi, Puyol, Valdés, Iniesta and Messi have won the title five times.
– Gerardo 'Tata' Martino and Simeone will face off for the first time ever this evening.