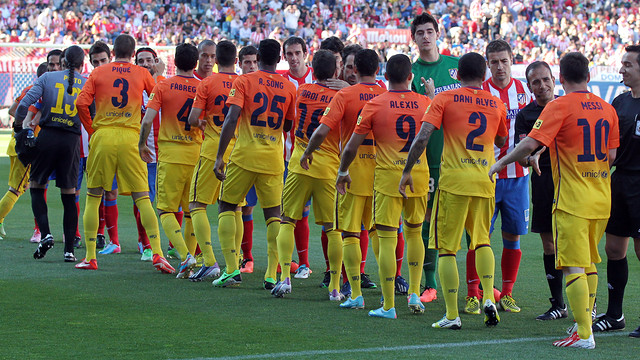 The champions of the Liga and the Cup come into tonight's match after defeating Levante (7-0) and Sevilla (1-3), respectively
The match in Madrid is the first official game away from the Camp Nou for Tata Martino and Neymar Jr, who could feature in the starting XI for the first time this evening
The second official match of the season is shaping up to be an exciting one. Atlético Madrid and FC Barcelona will face off at the Vicente Calderón (23.00, La 1 and TV3) in the away leg of the Spanish Super Cup. The match is chock full of interesting tidbits, like David Villa's reunion with his former team-mates or Tata Martino and Neymar Jr's
first official match away from the Camp Nou.
Strong starts
The reigning champions of the league and the cup come into tonight's match after putting in strong performances in the opening round of the league this weekend. FC Barcelona, who travelled to Madrid with a 19-man team – Adriano didn't make the squad due to suspension –, thrashed Levante by 7 to 0 on Sunday. Atlético didn't disappoint in their league opener either; the Colchoneros defeated Sevilla at the Sánchez Pizjuán by 3 to 1. David Villa was named to Atlético's starting XI by Diego Simeone.
This evening's showdown could see Neymar Jr in the starting XI for the first time in an official match. It will also be Tata Martino's first official match away from the Camp Nou. It goes without saying that tonight's is a very special game between two sides that demand respect.