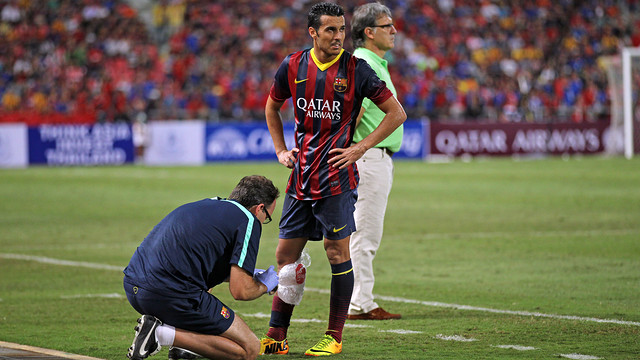 The forward was one of the standout players in match against Thailand
Pedro is doubtful for this Saturday's match as he picked up a knock in the latter stages of this evening's game

Tata Martino's Barça defeated Thailand this evening in Bangkok by a comfortable 1-7 scoreline. After the match, Pedro, Sergi Roberto, Bagnack and Bartra talked about the team's performance.
Pedro's hat-trick
One of the standout players of the night was Pedro Rodríguez. The forward, who bagged three goals against Thailand, said "each player wants to give 100% for the team and I want to continue performing like I did tonight. Scoring goals always helps me maintain confidence.
"We all performed well and we got what we wanted. We will try to be on the best form possible at the start of the league," said Pedro, who picked up a knock at the end of the match: "I noticed a sharp pain in my calf muscle, I hope it isn't anything serious. But it is pretty painful." The player is doubtful for the match scheduled for this Saturday in Kuala Lumpur.
The forward went on to praise Barça's new manager: "Tata is a manager who gives us that extra push. We want to please him, we want to win his confidence."
"This is the right path"
Sergi Roberto also praised Martino: "From the start Tata has talked about pressure. We're working intensely and we're on the right track.
"I'm very pleased, I think that we're working well. It will be difficult to get playing time but I have to keep on working," said the midfielder.
The Catalan also talked about his team-mate Cesc Fàbregas: "He is very happy here. His Club is Barça and I don't think he'll leave."
Confidence in the youngsters
Bartra also talked to the press after the match: "The fact that the boss has confidence in me gives me the confidence to do a good job. My desire to improve grows each day. Barça have given me everything."
"You always think about making it this far and I have to keep on working. I'm very pleased that I got to play today," said Bagnack, who added: "I'm focused on Barça B, but if I'm promoted, I'd go with pleasure."