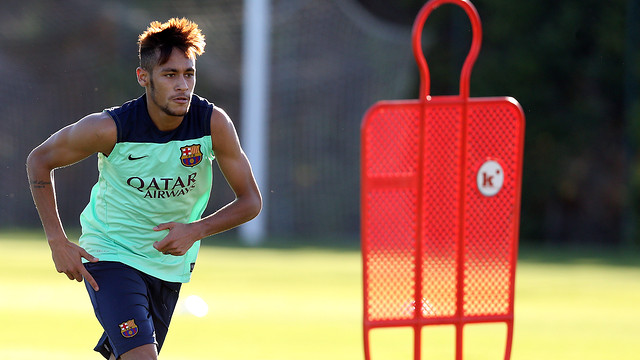 Barça's new signing is hungry for success and is also keen to make his possible debut at the Camp Nou on Friday.
"Barcelona is a marvellous city, but what has most impressed me is the group of players here"
Neymar may well make his Camp Nou debut this Friday in the Joan Gamper Trophy and he's as determined to win that as he is the other titles the team will be competing for this season. When he was asked in his press conference this morning which titles he'd most like to win in his opening season, the Brazilian was quick to respond: "all of them!"
The Club's big summer signing told the media he'd been "more than happy" in his first few days in Barcelona: "it's a marvellous city, though what has most impressed me has been the group of players here". Neymar also expressed his excitement about playing at the Camp on Friday: "I'll defend Barça with all my pride".
Neymar is also convinced that "there will be no problem" in his relationship with Messi: "he's a leader and I have a lot of respect for him".
More information to follow.