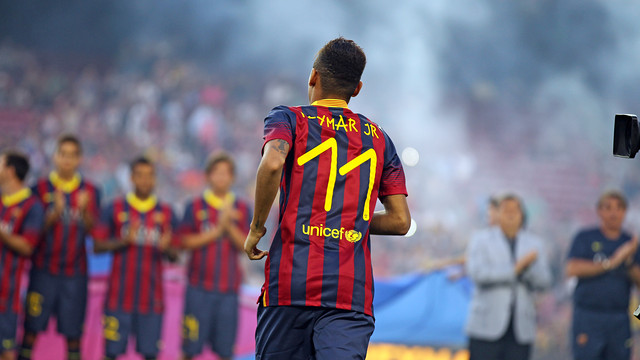 The manager and the Brazilian forward, the two newcomers to the team this season, were welcomed by the Camp Nou faithful with standing ovations during the presentation of the first team
Tata Martino's 2013/14 FC Barcelona was officially presented at the Camp Nou this Friday night during the 48th edition of the Joan Gamper Trophy. The first members of the team to be presented were Tata and his coaching staff. One my one they trotted out onto the pitch as Manel Vic, the 'speaker of the Camp Nou,' heralded their arrival. Accompanied by Roura, Rubi and Pautasso, Gerardo "Tata" Martino came out of the tunnel and received the first ovations of the night.
After the coaching staff had been presented to the fans, the players lined up to come out onto the pitch. One by one they came out to the applause of the fans, and it's worth noting that the noise reached fever pitch when Leo Messi made his appearance. Neymar was one of the last players to leave the tunnel, and he too was given a standing ovation. The four captains – Puyol, Xavi, Iniesta and Valdés – closed out the presentation parade.
Puyol remembers Tito
After the players and coaching staff were presented, captain Carles Puyol and manager Tata Martino addressed the fans. The centre back was quick to remember his ex-manager, Tito Vilanova: "We want to send a big hug to Tito Vilanova. You have our encouragement and our strength. We are with you." He went on to say "now is the time to be more united than ever. If the team and the fans are together, we will be able to overcome everything and I'm sure we'll win a title this year." He concluded his address by welcoming the new players to the team.
The challenges that Tata Martino faces
Tata Martino also addressed the fans. After greeting them with a "bona nit" (good evening in Catalan) and expressing his joy at being named head manager of the team, Tata declared that "my commitment is to make this a successful year for the institution."