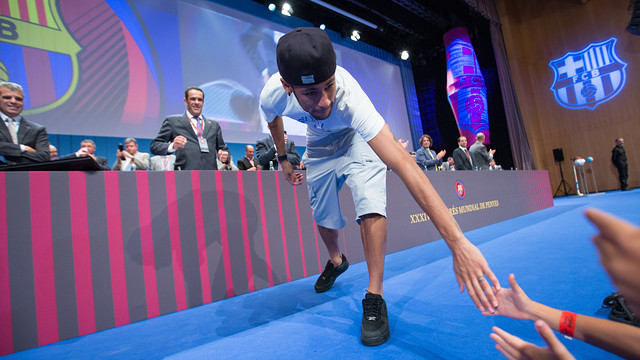 Attendees greeted the forward and the manager with cheers
The Supporters Club World Congress came to a close with a big surprise. At around 13.00, President Sandro Rosell announced that Barça's only signing of the summer, Neymar da Silva Jr, and the new manager, Tata Martino, were about to make an appearance.
Greeted by cheers from the attendees, Neymar declared: "I'm very happy to wear the Barça kit and I thank you all for your support. I hope to have a great season and win as many titles as possible."
After Martino and Neymar made their statements, the two men posed for pictures with the president and then bid farewell to the attendees. This Friday night they will be presented to the fans at the Camp Nou ahead of the match against Santos.