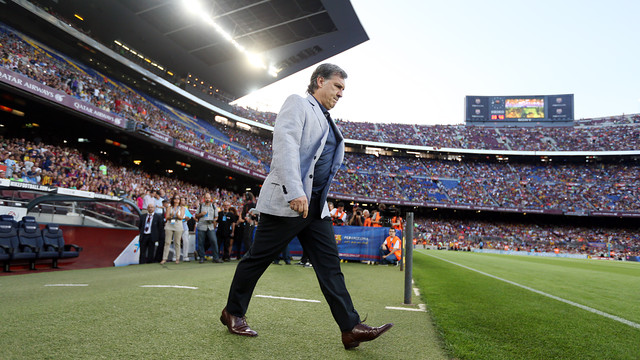 Six of the last eight new Barça managers have started their first Liga campaigns with a win
There's a saying in Spanish football that goes that "a new manager is a certain win." And that theory certainly seems to hold in the case of Barça. Gerardo 'Tata' Martino will be the ninth new manager at the start of a league campaign, and six of his eight predecessors got off to a winning start.
Dark night in Soria
Curiously, the only new Barça manager to be beaten in his league debut was the one who went on to lead the club to some of its greatest successes ever, Pep Guardiola. In 2008, Barça started with 1-0 defeat away to Numancia, but would go on to win the treble. Last season's manager, Tito Vilanova, got the first three of FCB's 100 points with a 5-1 win over Real Sociedad.
Rijkaard wins at San Mamés
Dutchman Frank Rijkaard's five years at Barcelona started with a 1-0 win over Bilbao at San Mamés, with Cocu claiming the solitary goal (2003/04). But his compatriot Louis Van Gaal failed to win in his official return to the Camp Nou bench, being held to a 2-2 draw by Atlético Madrid at the Camp Nou (2002/03). There was better fortune for Llorenç Serra Ferrer, whose team beat Malaga 2-1 at the Camp Nou in the first fixture of the 2000/01 championship.
Cruyff starts in derby
In his first era at Barça, Van Gaal got off to a comfortable start with a 3-0 win against Real Sociedad (97/98). The year before, the late Bobby Robson had also started well, with a 4-2 win on the road at Oviedo. And going back a whole 25 years, we come to Johan Cruyff's famous return to the club, this time as manager, with Barça beating local rivals Espanyol 2-0 at the Camp Nou in his first official outing.