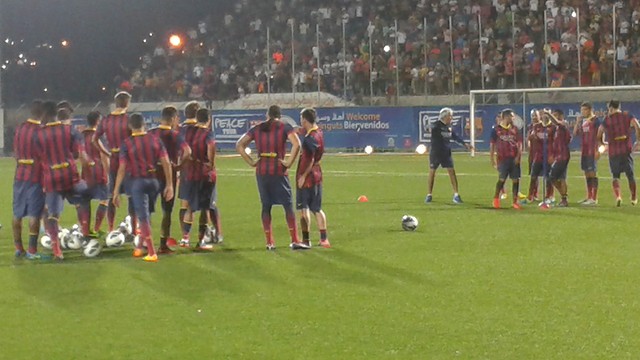 More than 24,000 people welcomed Barça to the first clinic on the 'Peace Tour'
The players, who were received by a banner in Catalan, trained with a group of 40 Palestinian boys and girls
The Dura stadium was the venue for the first contact between Barça and the ball on the 'Peace Tour'. Located close to Hebron, it was packed to welcome the full first team and coaching staff, who everyone in this country is used to seeing on television. With the same passion as at the reception in Bethlehem, the Palestinian fans watched every detail of the exercises.
Like an official match
As if at the Camp Nou, the players walked onto the pitch in full kit and with the 'Cant del Barça' playing in the background. They felt quite at home, with several banners in the Catalan language being held aloft as they marched one by one onto the field, with the speaker announcing each of their names.
The box looked like it would for an official match too. President Sandro Rosell was joined by vice presidents Josep Maria Bartomeu, Javier Faus and Jordi Cardoner, and sat in the front row next to Jibril Rjoub, the head of Palestinian football.
For the first half hour, Tata Martino and his players did a series of exercises with 40 boys and girls from the Palestinian football academy. The youngsters, aged between 8 and 12, followed the orders of the players, who had become coaches for a day. After it was over, they had a gentle training session of their own, but not before going on a lap of honour to greet the fans in this peculiar stadium, which only has one grandstand and terracing at one end of the pitch.
The crowd was delighted to get to see their heroes in the flesh, especially Leo Messi, with the flashes from cameras and mobile devices flickering constantly in the stands. At ground level, some 200 reporters were there to cover a day that ended with a closing performance from Muhammad Assaf, the young Palestinian who recently won 'Arab Idol' and has become a major media icon in his country.