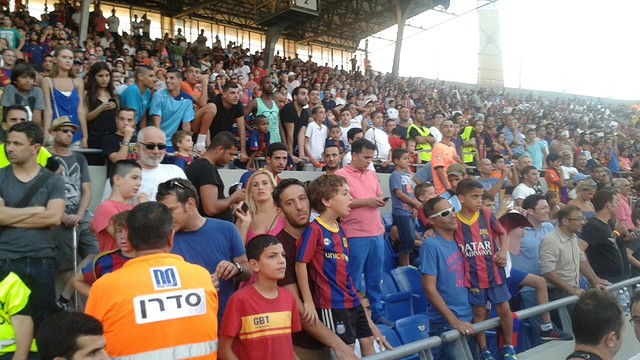 Like in Dura, the players spent the first half hour with children, and then continued with a normal training session
Israelis and Palestinians participated together in an event watched by Sandro Rosell and Shimon Peres

The expectation surrounding FC Barcelona's visit was just as big on Sunday, with the players giving their second clinic of the Peace Tour, this time at the Bloomfield Stadium (Tel Aviv) in front of 15,000 people.
Children taking part
Like in Dura, the session was divided into two sections. First of all, a group of children appeared on the pitch and enjoyed the amazing experience of being coached for half an hour by Messi, Xavi, Iniesta, Neymar Jr and company. The children had been invited by the Israeli Ministry of Education and the Shimon Peres Centre for Peace, and included a mix of both Israelis and Palestinians. Sandro Rosell and Shimon Peres watched a session that also included some disabled participants.
The second part was a normal training session for the first team players, a fascinating glimpse of how Tata Martino and his team work.
The Bloomfield Stadium was filled with people that had been invited to the event. Not a shekel was charged in Tel Aviv for this historic opportunity to watch FC Barcelona in action.