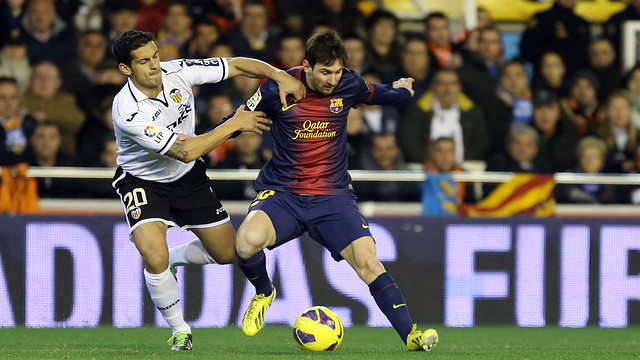 Barça have only won 4 of the last 12 games away to Valencia
The last Liga win was in 2010/11, the only goal scored by Messi (0-1)
Last 10 years at Mestalla
2003/04
Liga: Valencia 0 – FCB 1
2004/05
Liga: Valencia 0 – FCB 2
2005/06
Liga: Valencia 1 – FCB 0
2006/07
Liga: Valencia 2 – FCB 1
2007/08
Liga: Valencia 0 – FCB 3
Copa (semis): Valencia 3 – FCB 2
2008/09
Liga: Valencia 2 – FCB 2
2009/10
Liga: Valencia 0 – FCB 0
2010/11
Liga: Valencia 0 – FCB 1
2011/12
Liga: Valencia 2 – FCB 2
Copa (semis): Valencia 1 – FCB 1
2012/13
Liga: Valencia 1 – FCB 1
Barça are on the road for the second week in a row. On Sunday' they're at Mestalla to face Valencia, and it's not a fixture that has been kind to them in recent seasons. After a comfortable win against Levante on the opening weekend (7-0) and a closer battle for the three points in Malaga (0-1), they now face what has traditionally been one of the hardest away trips of the year.
One win in five years
FC Barcelona last won at Mestalla in the 2010/11 season, with the only goal of the game scored by Leo Messi in the 75th minute, enough to secure three more points on the road to what would be the club's 21st Liga title.
But that was Barça's only win at Valencia since 2008/09. Since then, every other league game has ended in a draw. Barça also went to Valencia in the 2011/12 Copa del Rey, and that match also ended level (1-1), Puyol scoring the only goal, with Barça eventually qualifying by virtue of a 2-0 win in the second leg at the Camp Nou.
Last meeting at Mestalla
Last season produced yet another draw (1-1) in which the home side caused all kinds of headaches for the side coached by Tito Vilanova. Banega put Valencia ahead after 33 minutes, but that lead only lasted for six minutes, when Messi equalised from the penalty spot. Valdés proved providential with two top class saves in the final moments of the match.