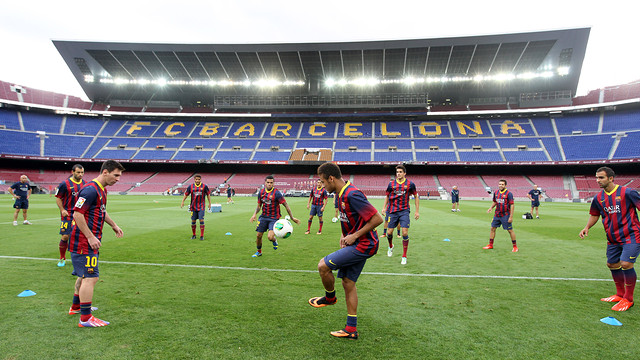 The Argentine has been named to the team ahead of tomorrow's match against Atlético Madrid
Adriano did not recover in time to make the squad, and Oier and Dos Santos weren't named to the team
Leo Messi has successfully recovered from the postcontusional intramuscular hematoma injury in his left thigh and thus was given medical clearance to play against Atlético Madrid on Wednesday. However, Adriano Correia did not recover in time to make tomorrow's match.
In addition to the Brazilian right back, Gerardo Martino also confirmed the absences of Oier and Jonathan Dos Santos against Atlético – neither player was named to the squad. Martín Montoya was named to the team, but it should be noted that the manager must cut one player before kick off tomorrow.
Training session at the Camp Nou
The team trained at the Camp Nou before the list of players named to the squad was revealed. The players trained in their official FC Barcelona home kits seeing that the Qatar Airways partnership was presented at the stadium just prior to the session. Before the session kicked off, Sergio Busquets was congratulated by his team-mates for renewing his contract with the Club.
It's worth noting that FC Barcelona will complete one final session before tomorrow's match. It's scheduled for 12.30 at the Camp Nou.