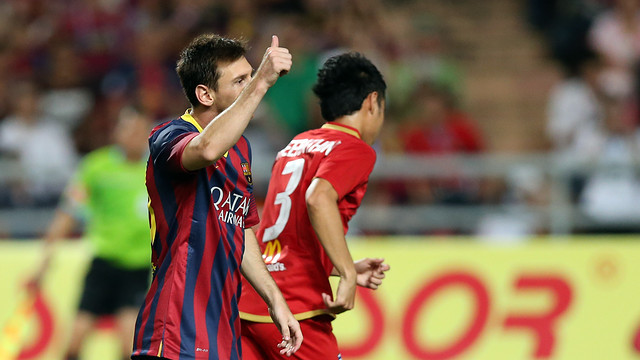 Neymar scored his first goal for Barcelona to break the deadlock in Bangkok
The other scorers were Messi (2), Pedro (3) and Alexis in a game that was over by halftime (5-1)

Barça are getting better and better under Tata Martino as the 2013/14 season goes on. On Wednesday, in the fifth of the series of friendlies, they were far too strong for the Thai national team, and had already scored five times by half time. Bangkok witnessed Neymar's first ever goal for his club, as well as a brace from Messi, a hat-trick from Pedro and another from Alexis, yet another huge-margin win for FCB under Tata Martino.
Neymar scores
Messi and Neymar played together for the first time and were the protagonists of the first goals of the game. The Brazilian got the first, and his first for his new club, following an action involving Messi and Cesc, and just two minutes later Messi converted a penalty awarded for a foul on himself. The Thais were already resigned to defeat and there were only fifteen minutes on the clock.
5-1 by halftime
Two goals up, Barça started playing even more direct football. Messi laid on an assist for Pedro to make it three in the 19th minute, and in the 25th, the Argentinian scored an opportunistic goal to make it four. Ten minutes later, Pedro culminated a stunning piece of skill from Messi with the fifth. But just before the break, a penalty committed by Bagnack allowed the home side to grab a consolation goal.
One way traffic
Eight changes were made at halftime, but FC Barcelona came out just as strong. The game had barely restarted when Pedro latched onto a long cross from Cesc and then Alexis converted from an Iniesta assist to score the sixth and seventh goals respectively.
With FCB now 7-1 up, the pace eased off considerably, and the final half produced no goals and few chances. Pinto and Dongou were both sent on for a game that FC Barcelona ended with just ten men on the field. But the job was already done, and the 48,000 people in the crowd had got what they had come for – an amazing display from FC Barcelona.