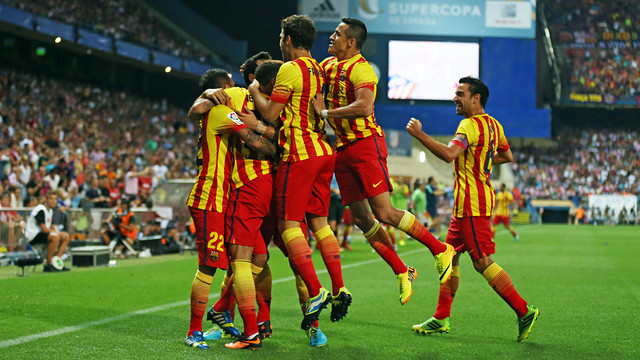 The Argentinian recognises that it's difficult to defeat Atlético Madrid
Xavi: "We were patient and in the end we scored a goal that will help us in the return leg"
Dani Alves and Neymar named to Brazil squad
Brazil manager Luiz Felipe Scolari revealed the squad for the upcoming Brazil friendlies. Dani Alves and Neymar Jr. will both feature for Brazil against Australia and Portugal, on September 7 and 10 respectively. The friendlies will be played in Brasilia (against Australia) and Foxborough, USA, (against Portugal)
Mascherano and Xavi talked to the press after this evening's match against Atlético Madrid (1-1). The Argentinian praised the defensive work and intensity shown by Barça's opponent: "Atlético are a very tough team. They know how to compete and they believe in their manager."
"We know that we can play much better"
Mascherano explained why the Blaugrana struggled to find their stride in the first 45 minutes: "In the first half we were unable to do what we wanted. They were tight, we couldn't find any spaces and the pitch didn't benefit us. It was slow and dry.
"In the second half pushed more, we were more intense went it came to fighting for 50/50 balls and that's why we drew level. Everything was more equal and I think the result is fair," said Mascherano.
On the return leg at the Camp Nou, Mascherano said: "The two matches are finals. We aren't favourites, it's at 50%. We know that we can play much better. Sometimes you can't play like you want to, you just do what you can."
Valuable goal ahead of the return leg
Xavi said that "we tried to do a good job both in the first and second halves. In the end we found more space. We tried to be patient and we managed to score a goal that will help us in the return leg."
The midfielder also highlighted Atlético's performance: "They are a strong rival and they defend really well." The Catalan then went on to evaluate Neymar's performance: "The goal he scored will give him confidence."
Hoping for a speedy recovery
Both Mascherano and Xavi hope that Messi recovers quickly. The Argentinian noted that "he has a contusion. He'll have more tests tomorrow." Xavi added: "I hope it's nothing serious."
After the match Cesc and Neymar also made statements to the press.
Neymar:
"I'm very pleased that I scored the tying goal. It was a difficult match against quality players."
Cesc:
"We took a step forward with Neymar's goal. It's great news that he scored. It's the first of many."