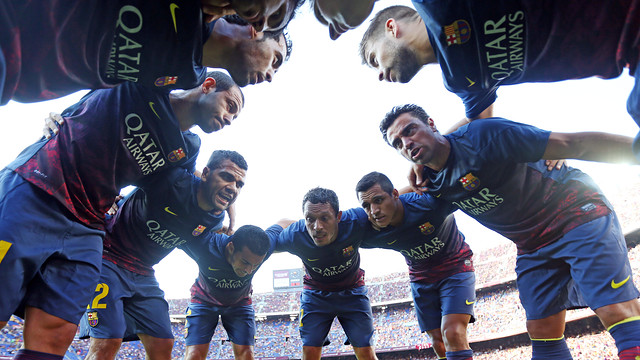 This Sunday, Barça goes into the first away match of the league campaign with the aim of emulating recent seasons and taking all three points from La Rosaleda. (9pm, Canal +)
Despite being without Messi, who has been left out as a precaution, Martino doesn't want any excuses or distractions against a new-look team that is making their home debut after narrowly losing in the Mestalla

Ahead of next Wednesday's Super Cup second leg, Bernd Schuster's new-look Malaga will be the second league challenge for Gerardo Martino's Barça (9 pm, Canal +). Barça make their first trip of the league season without Messi, who has been rested as a precaution due to the bruised thigh he picked up in the first leg of the Super Cup in the Vicente Calderón. The Barça manager has named a squad of 19 players for the clash and has ruled out any excuses or distractions. He expects his team to produce a good performance this Sunday evening in La Rosaleda. He told the fans on Saturday: "It's nice to play finals but it's also true that last year the league title was determined by what happened in the first four months. We mustn't be distracted by anything".
Messi's absence is undoubtedly a setback but his team-mates have done more than enough to prove that it's a setback they can overcome. Barça has won the last three league matches in which Messi was unable to play – Valladolid, Espanyol and Malaga. The side from the Costa del Sol was the final opponent of last season and will be the first to play host to Barça for their debut in front of their home fans.
Barça's fine record in La Rosaleda,
Martino's Barça will be looking to continue the good run of results in La Rosaleda. A win today will make it seven in a row, the eighth in total. Last season, Tito Vilanova's team put on a fine show to win 1-3 in the league and finish the first half of the season with a record-breaking 55 points. This summer there have been changes, especially in Malaga.
Malaga with many new faces
Bernd Schuster, who will face FC Barcelona five years after the last meeting, has taken over from Pellegrini while the Malaga squad has also undergone a complete overhaul in the summer. Gone are many of the big names such as Isco, Joaquín, Demichelis, Toulalan, Baptista and Saviola, to be replaced by younger players with promise. Despite the many changes, they put up a good fight against Valencia last weekend and lost by the narrowest of margins in the Mestalla (1-0). The Polish under-21 international Pawlowski has received his transfer clearance and could get the nod from Schuster against Barça.