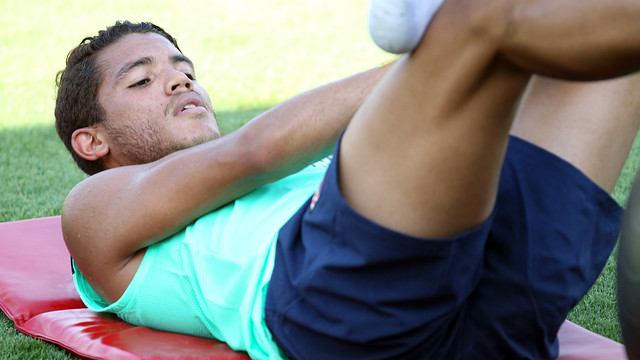 The FC Barcelona midfielder expects that he'll have "to earn the minutes" he gets on the pitch this season

During this afternoon's press conference, Jonathan Dos Santos declared that his goal for this season is to have more playing time. The midfielder admitted that he came close to signing with Real Sociedad this summer but he chose to stay at FC Barcelona because of the confidence that Gerardo Tata Martino has shown him.
"I hope to have more minutes than I had last season, I want to show what kind of player I am. I expect to help the team as much as possible. The fact that Martino said that he wanted me to stay, that he has confidence in me, was key. I hope to have a better season than last year," said Dos Santos.
A year gained
Despite not enjoying a lot of playing time in the 2012/13 season, Dos Santos considers that last year wasn't wasted. "Ever since I was a child I've had the dream of playing for Barça and succeeding here. Sometimes there are times that aren't that great, but it makes you mature as a player. It was a year gained, not lost. I hope to play more this season, but I don't want anyone to give me anything, I have to earn my playing time," said the midfielder.
Interior midfielder
Dos Santos is likely to be repositioned as an interior midfielder this season. "Tata sees me more as an interior player, a player who can attack and move the team. I can help the team when we go forward and also defensively," said Dos Santos.
The great rival
When asked about Real Madrid, Dos Santos explained that the team managed by Carlo Ancelotti will be a great rival for the Catalan team. "We shouldn't focus on Real Madrid. They have a great team and they've signed good players, but we have to focus on ourselves. I'm sure it will be another season of great rivalry."