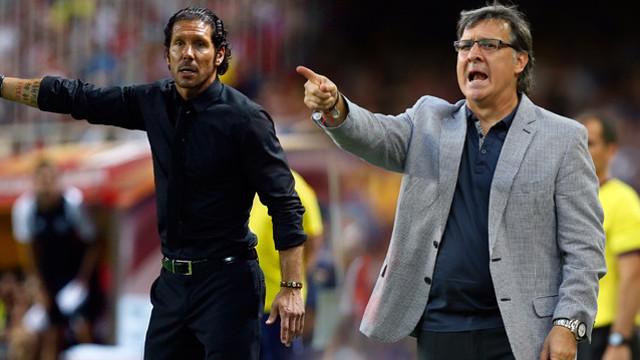 Both men have managed several clubs in Argentina, but have never faced each other in a match
Simeone took over in Madrid in 2011, while Tata Martino was in charge at Newell's Old Boys
The Supercup between Barça and Atlético will be the first meeting between the fellow Argentinains
Simeone a success at Atlético
Since Diego Pablo Simeone took over at Atlético in 2011, there has been huge improvement in quality. The club won the UEFA Europa League in 2012 against Athletic Bilbao, and followed that with the European Supercup against Chelsea. Also, finishing third in La Liga last season meant direct access to this year's edition of the Champions League.
Gerardo 'Tata' Martino and Diego Pablo Simeone. Two Argentinian managers who have made history on their country's benches, but who have never faced each other in a match. But all that will end on Wednesday when they meet in the Spanish Supercup 2013 first leg at the Vicente Calderón. Barça are looking to conquer the first trophy of the season in just the second official match for Tata Martino after the incredible start against Levante.
Simeone in Argentina
Martino will be facing his compatriot Diego Pablo Simeone, who has been boss of Atlético since December 2011. Before joining the red-and-whites, 'el Cholo' managed in Argentina. Having been a player for Atlético in the 1990s, he returned to his country to manage Racing Club de Avellaneda, where he also spent the final months of his playing career, and managed to save the 'Academy' from serious problems.
The next season, he won the Opening Tournament with Estudiantes de la Plata, and also managed Buenos Aires giants River Plate for a while, before leading Millonarios to the 2008 Closing title, and then taking over on the bench at San Lorenzo. He then returned to Europe, managing Italian outfit Catania for half a season, and after that returned to the club he claims to have always followed, Racing de Avellaneda.
Crossing paths with Tata Martino
In December 2011, Simeone left Argentina to take charge of Atlético Madrid in replacement for Gregorio Manzano. Shortly after, Tata Martino signed for Newell's Old Boys, where he had played in the 1980s. But while Simeone was managing in Argentina, Martino was in charge of the Paraguay national team, so the two never got the chance to face each other on the pitch.
But even before Simeone had become a coach, Tata Martino was already gaining managerial experience. He started in 1998 at Brown de Arrecifes, and later moved to Platense and Instituto de Córdoba in Argentina before crossing the Paraguayan border to coach Libertad, and later on Cerro Porteño. After a brief spell at Colón de Santa Fe, he returned to Paraguay as manager of the national team.
All that means is these much travelled Argentinian managers will be meeting for the very first time on Wednesday at the Vicente Calderón. The game kicks off at 23.00, and the target will be the Spanish Supercup.