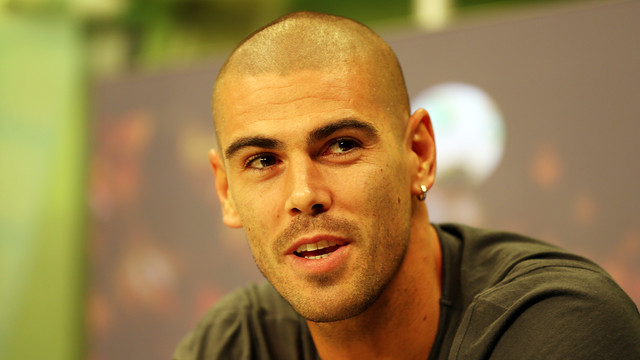 The Barça keeper was thrilled to win the Spanish Supercup trophy following Wednesday night's 0-0 draw with Atlético Madrid
"I normally use my feet more than my hands", Valdés told Barça TV. "So it's good to be able to show I can use my hands as well."

Víctor Valdés was one of the stars of Wednesday night's conquest of the Spanish Supercup at the Camp Nou, with two tremendous saves. "The first was more about reflexes, and being ready to block Turan from shooting until the last second" said the goalkeeper on the 'Marcador' show on Barça TV. "For the second, because I know Villa so well, I moved forwards a bit, knowing which way he was likely to go."
Valdés has only conceded one goal in four official starts this season. "On a personal level, I'm very happy with the season has started" he said. "It's always nice to win a trophy. My role at Barça is not about getting involved much. But when I do, I normally use my feet more than my hands. So it's good to be able to show I can use my hands as well."
Sixth Supercup
"It was very important to start the season with this title" he continued. "The players appreciate what it means. We knew how good Atlético Madrid are on the counter attack and at taking second chances. It's not a style we feel comfortable playing against".
This was the player's sixth Spanish Supercup, but he still feels "there are a lot of areas where I still need to improve. You might get something right one day, but not the next. I'll have to train hard for a difficult season, in which Barça are the team they all want to beat. We'll have to take things one game at a time."
Thanks to the fans
Valdés added that since he announced he is leaving, the fans have shown him no end of affection, but he is not changing his mind. "People who know me know that when I make a decision, I make it. I'm very happy to play one more season at Barça and I want to end my time here with my head high. I'm as enthusiastic as ever".
He was also asked to pick his most memorable night, and jokingly replied that "there have been three important nights in my life. The night I met my wife, the night my son was born, and the night of the Champions League in Paris".