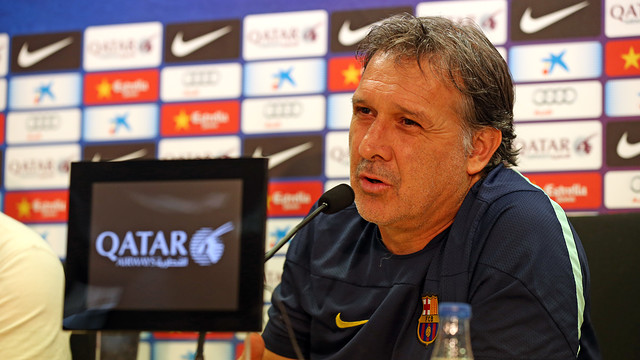 The Barça manager explained that he is resting Xavi and Alexis because of the number of games they have played so far
Martino revealed one of the keys to Sunday's game: "We have to stop Ever Banega from influencing the game"
Gerardo Martino spoke at a press conference on Saturday ahead of Sunday's match against Valencia in the Mestalla (kick-off 9pm). The Argentine manager revealed that he has excluded Xavi Hernández and Alexis Sánchez from the match squad and explained: "It was their turn to rest". He insisted that the team "need to get into gear to play at their best" and that "we need to improve our teamwork".
Harmonize movements
"We need to improve our teamwork; that will improve individual performances. What we have to do now is get into our best form and above all win matches. How do we improve? Working hard in training, coordinating the movements of the fullbacks, the midfielders…we have to harmonize movements. We have to get then back so we don't give any space to our opponents".
Stopping Banega
For Martino, keeping Argentine international midfielder Ever Banega under control will be one of the keys to winning in the Mestalla. "We have to stop Banega from influencing the game. We'll try and be at our best to stop him". As for the Valencia team in general, he explained: "They've played two very different matches. They changed a number of players from the first to the second match, and shuffled positions around".
However, Martino is clear about how he's going to approach the match. "As the home side, Valencia have to go for the win. I'm in no doubt about that. What we do is imagine what might happen and then see if there are alternatives".
"We have to score more goals"
Finally, Martino highlighted the success of the Barça defence in limiting the number of shots on target, but he also insisted that his players have to snap up their own chances. "It's great that they can't score against us and we haven't given away many chances. We have to keep those chances to a minimum. But with the players we have up front, we also have to score more, though we have had the chances".