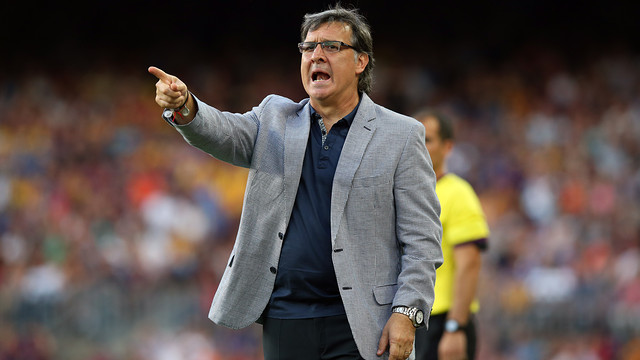 The Argentine manager, who is very pleased with his team's La Liga debut, says that his men "surpassed expectations" in the match against Levante
"We can be more intense. We can prolong our pressure and we can continue to look for alternatives when we go forward," says Martino when asked about how Barça can improve
Zubizarreta: "We are completely aligned with the manager"
"We are completely aligned with the manager. There are no discrepancies, I only ask for good health this season. As of now we aren't considering signing a center back, but I'm not ruling anything out. That position is covered," said Zubizarreta after the match.
Gerardo 'Tata' Martino made his debut as FC Barcelona's manager in an official match this evening, and he couldn't have asked for a better start.
"The concepts that we addressed with the players – which aren't new, they've just been archived – were brought back. Our interior-playing midfielders went deep, we switched up direct play with build-up play, these are good signs despite the fact that this just started. One of the aspects we've insisted on the most is pressure. I'm very satisfied," explained Martino in the post-match press conference.
Caring for Leo Messi
Leo Messi was subbed off on the 70th minute this Sunday evening, an unusual occurrence for the Argentine. Tata Martino, however, was clear when asked about his decision to sub off the superstar: "We've talked to Messi from the beginning. The season is long and this way he can rest if he doesn't play every minute in a couple of matches. We came to an agreement quickly," said the manager, who added that "agreeing on substitutions beforehand is a complicated matter. No one would ever take Messi out of a match if the teams are evenly matched. But it can be done in matches where we take a big advantage, this way he can preserve his fitness."
When asked about Messi's pressure on Levante's back line, Martino said, "when Messi starts the pressure, our opponents see that he's trying to win possession back. Hopefully he can do this on a regular basis and that his team-mates follow him."
Things can always improve
"We can be more intense. We can prolong our pressure and we can continue to look for alternatives when we go forward. We need to play on the inside, on the outside, the right and left backs need to come forward, the interior players need to crash the area …" said Martino, who added that conclusions cannot be drawn from just one match. "It's very premature to make a global analysis after only 90 minutes. We have to play more matches in order to truly see how we are doing."
The manager was then asked about Neymar, who made his debut for the Club in an official match this evening. "Everyone wants to see Neymar and Messi play together. But that would hurt the player. I want him to adapt to the team quickly, but I don't want to force anything. We will see his best form in short order. This is how I see it and it's my decision," said Martino.
Success is contingent on the team's fitness
"I have been very clear with all the players in this regard. I told them that we will not succeed if we aren't in peak condition. We cannot arrive to the end of the season and only be able to field 11 healthy players. My commitment is to make logical rotations, and these decisions may or may not please everyone," said the manager, who went on to praise Cesc Fàbregas' performance against Levante.