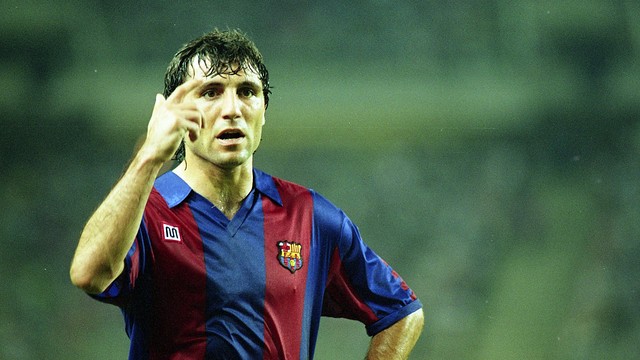 Barça's most recent star signing, Neymar, has the chance to debut in front of the home fans in the Club's traditional summer tournament
Other big names,like Romário, Stoitxkov or Rivaldo have enjoyed great debuts in Gamper Trophies
Neymar da Silva will step out onto the Camp Nou pitch for the second time on Friday night, after first doing so in his presentation following his signing in June. This time, he'll have the chance to show the home fans what he can do when he appears in the Joan Gamper Trophy against his old club Santos.
Dream debuts
The Gamper Trophy is once again being played as the home opener for the team and will give the fans a chance to see the 2013/14 squad for the first time –a tradition that has proved highly successful for a series of big name signings down the years.
One of the most impressive Gamper debuts was made by Romário da Souza in 1993 when he scored four goals in two games (the Trophy at that time featured four teams and had a semi final and final). Eleven years earlier Diego Armando Maradona made his home debut against Inter de Porto Alegre in front of 110,000 fans, whilst Ronald Koeman made his debut against Sochaux in 1989.
Ten years ago, Ronaldinho first showed his skills at the Camp Nou, when Boca Juniors played in the Trophy. Rijkaard's team had already played six pre-season friendlies, but the Gamper was Ronnie's first appearance in front of the home fans..
Montjuic hosts Trophy
The Gamper has occasionally been played up at the Olympic Stadium on Montjuic, whilst the Camp Nou pitch was being re-laid and Hristo Stoitxkov made his debut there in 1990 with a brilliant goal in the final against Anderlecht, as did Ronaldo Názario in 1996, when the Brazilian came on for 24 minutes against San Lorenzo de Almagro.
Rivaldo -two summer presentations in 4 days
Rivaldo also figured in an unusual Gamper debut , having played in Deportivo's Teresa Herrera competition on August 14, before then signing for Barça and appearing in the Gamper on 18 against Sampdoria.