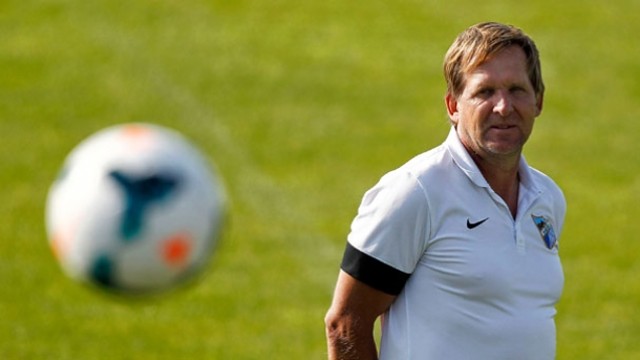 Shuster has not taken on FC Barcelona since winning 4-1 in 2008 as manager of Real Madrid. Since then Barça has won 15 trophies
The German coach has managed three different teams against Barça; Levante, Getafe and Real Madrid. Barça has won five, drawn one and lost three
On two occasions he was sacked just before playing against the team he represented for eight seasons in the 80's

After a gap of five years, the paths of FC Barcelona and Bernd Schuster have crossed again. The last time was on 7th May 2008, when Real Madrid celebrated the league title with a comfortable victory against the eternal rival in the Santiago Bernabéu (4-1). With the benefit of hindsight, the painful defeat of Rijkaard's team was a turning point in the recent history of Barça. Since then Barça has won four league titles, two Champions Leagues, two Spanish Cups, three Spanish Super Cups, two European Super Cups and two World Club Cups.
One shock result
This Sunday, Bernd Schuster – who played for the Club between 1980 and 1988 – will take on Barça as manager of Malaga, the fourth different side he has coached against his former club.
The first of these four was Levante in the 2004/05 season. A goal from Eto'o towards the end of the 90 minutes prevented the Valencians from springing any surprise in Shuster's first visit tot he Camp Nou as manager. Later in the season, he was sacked two weeks before Barça made the trip down to the Ciutat de València stadium to mathematically clinch the league title.
Schuster then joined Getafe where he faced Barça on four occasions. He lost both matches by the same 3-1 margin in the 2005/06 season. The following season went slightly better with a 1-1 draw at Getafe but another defeat (1-0) in the Camp Nou.
Schuster's first win against Barça came that same season in a Cup semi-final. The euphoria of the 5-2 win in the first leg, with a stunning goal reminiscent of Maradona from Messi, was wiped out by the 4-0 defeat in the Coliseum Alfonso Pérez. Getafe went on to lose the final against Sevilla.
Two 'clasicos' in his favour
Finally, Schuster managed Real Madrid twice against Barça in the 2007/08 season, winning 0-1 in the Camp Nou and 4-1 in the Bernabéu. The following season Schuster was sacked in the very same week that Madrid – trailing Barça by nine points – was due to visit the Camp Nou.