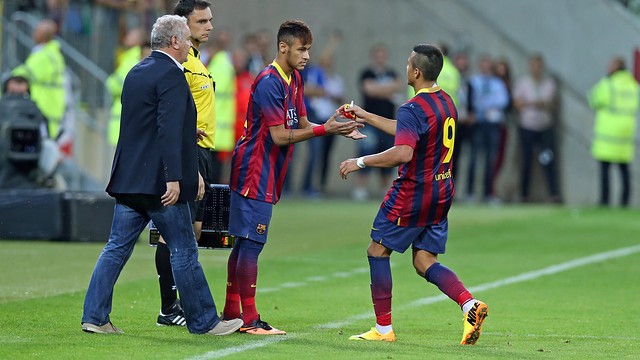 21.30 vs Santos: home fans first chance to see the team this season
Neymar, one of the big draws for the game, set to face ex-club.
Legendary keeper Antoni Ramallets, who passed away earlier this week, will also be honoured before the game.
Ramallets to be remembered
The game will also serve as a chance for the Camp Nou fans to pay their respects to the team's legendary keeper from the 1950s Antoni Ramallets, who passed away earlier this week.
The Joan Gamper Trophy reclaims its place as the season opener at the Camp Nou on Friday night – something which the busy summer schedules of the first team have made impossible in recent seasons. This year, after friendlies in Munich, Oslo and Gdansk, the Camp Nou faithful will have the chance to welcome the 2013/14 team when they take on the Brazilian team Santos.
Neymar and Tata's debuts
For Barça's only summer signing Neymar it promises to be a special presentation in front of his new Club's fans, as he faces his ex-team Santos, whilst new coach Tata Martin will speak to the crowd before the game along with captain Carles Puyol. Puyol will be one of the four squad players who will miss the game through injury, alongside Afellay, Cuenca and Tello.
However, the Club's internationals who were involved in the Confederatons Cup and only returned to training on Monday, will be available to make their pre-season debuts, with only Neymar having figured in the midweek game in Poland..
Activities all evening
The game kicks off at 21.30, with the team presentation taking place an hour earlier, but from 17.00 the Camp Nou will be hosting a series of activities for the fans, as the Gamper once again takes its place as the fans' summer festival!