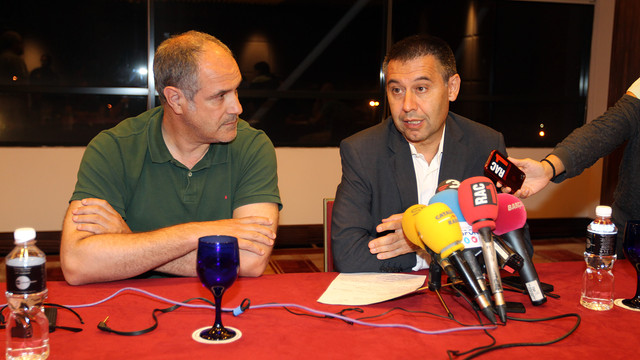 This Friday was a fairly atypical day for the Blaugrana. The players had the morning off and the decision to move tomorrow's match to Shah Alam Stadium was made late this evening
Happy news via Twitter
Among the 24 Barça players in Kuala Lumpur, the most satisfied is Cristian Tello, who was named to the Spain squad by Vicente del Bosque for the upcoming international friendly against Ecuador. The player explained that he'd heard the news via Twitter when he was on his way to the training session at Bukti Jalil National Stadium.
Barça's stay in Asia will come to a close tomorrow, but the frenetic pace of the 2013 Asia Tour isn't showing signs slowing. What was expected to be a low-key day, with no training session scheduled for this morning, became a bit more complicated when the decision to change the venue for tomorrow's match was announced due to the poor condition of the pitch at Bukit Jalil National Stadium, where Barça trained this afternoon. Here's an overview of today's events:
• Josep Maria Bartomeu announced the decision to play at Shah Alam Stadium minutes past 1:00 AM (Malaysia time) this morning. After communicating the Club's decision to not play at Bukit Jalil National Stadium and talking it over with the players, written conformation from the match organiser was recieved four hours later.
• Despite the inconvenient timing of the press conference, the members of the board who travelled to Kuala Lumpur, in addition to the Club executives, were present at Bartomeu's press conference. Director of football Andoni Zubizarreta also talked to the press alongside Bartomeu.
• It's worth noting that this is the second press conference given on the same day and same location by Bartomeu and Zubizarreta. The vice-president and the director of football talked about the Club's summer schedule in the first conference of the day, the format was similar to the one Tata Martino gave in Bangkok.
• The early morning press conference wasn't the only atypical event this Friday. The players had the morning off for the first time since the 2013 Asia Tour kicked off earlier this week. However, the players did participate in three promotional events. Perhaps the biggest of the three was CIMB Bank's, which took place at noon, and included the participation of all of the players.
• Barça will play in the same stadium that José Mourinho's Chelsea played in on July 21. The English side defeated the same team Tata Martino's men will go up against by 1 to 4.
• The Malaysia XI team will be managed by Datuk K Rajagopal, the Malaysia national team manager. There aren't many foreigners who play in the Malaysian league, so the team Barça will face off against tomorrow is practically identical to the Malaysia national team. Malaysian's most recent match was on July 31 against Japan, they lost 5-0 against Tokyo Verdy.