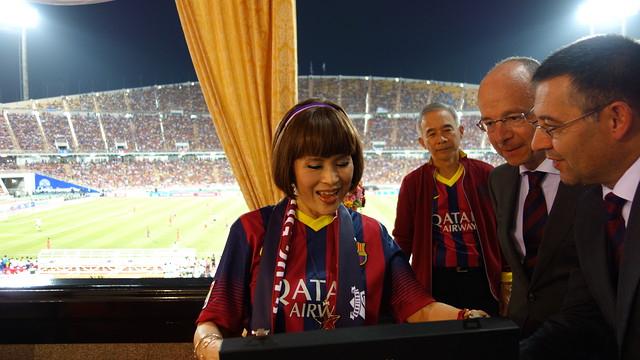 Princess Ubolratana Rajakanya attended this evening's match
TV personality Frank de la Jungla visited the players at the team hotel this morning
It was a busy day for Barça this Wednesday as the first team players featured against Thailand at Rajamangala National Stadium (1-7) in front of 48,112 fans. But in addition to the match, there were plenty of other events that occurred off the pitch that are worth mentioning:
– 1 million bahts. This is the amount the game promoter agreed to pay the players of the Thailand national team. The agreement was clear from the beginning: the promoter would pay one million bahts per goal scored by the local team (approximately 25,000 euros). Luckily the promoter didn't have the same agreement with Barça…
– The match, at least in the presidential box, was conditioned by the presence of princess Ubolratana Rajakanya. It's been three years since a member of the Thai royal family has attended a sporting event like this evening's, even with teams like Manchester United and Chelsea playing matches in the Asian country this preseason. The princess watched the match while wearing a Barça kit.
– Frank de la Jungla, who has become quite popular due to his TV show, visited the players in Bangkok after this morning's training session. In fact, Frank lives in Thailand. He met most of the players, who posed for photos with the TV personality and his three sons Pepsi, Zorro and Zape.
– The team received bad new last night as news reports announced that a building had collapsed in Rosario – Leo Messi and Tata Martino's home city. The tragic event has claimed the lives of some of Rosario's citizens while others are still missing. That afternoon, the team learned of the passing of Ibrahim Afellay's mother. The Dutchman is in Barcelona recovering from injury.
– A multifunctional mosaic. That's the best way to describe the Thai flag posters around the stadium. One side of the poster featured the colours of the Thai flag while the other side featured the names of the players of both teams. The stadium was nearly at capacity as 48,112 spectators attended the match.
– The team will spend the night in Bangkok and travel to Kuala Lumpur tomorrow at 8.00 in the morning.