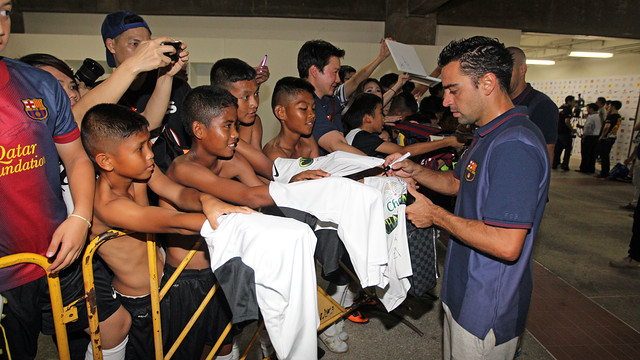 Frenetic day in Bangkok as the team complete two sessions, two promotional events and an FC Barcelona Foundation event
5,000 euros for a tie
This is the amount paid for the tie belonging to Ramon Pont, vice-president of the FC Barcelona Foundation. During an auction of Club paraphernalia, the executive offered up his tie as a gift to the attendees of a charity dinner hosted at the team hotel. The players who were in attendance (Cesc, Pedro, Neymar, Song and Alves) signed the tie to increase the value of the Ramon Pont's donation.
Two training session, Tata Martino's press conference, two promotional events, another FC Barcelona Foundation event and individual interviews with a few of the players … It was a busy day to say the least. Here's an overview of Barça's second day in Bangkok:
– Hanging from Tata Martino's right hand is a red string with two small medals. This Tuesday, the manager told us what they were: the medals contain a picture of father Ignacio, who moved to Rosario – Gerardo Martino's home town – many years ago. Father Ignacio was born in Sri Lanka, but he's considered to be one of the most illustrious expats Rosario has ever taken in.
– Press conferences, individual interviews and informal chats. 14 Catalan journalists, who travelled with the team to cover the tour, sat down with Tata Martino to get a first hand glimpse of the manager's football ideology.
– Nike usually organises a promotional event in each of the cities Barça visit when the Blaugrana go on tour. In this case, the players who attended the event were Neymar, Adriano, Alexis and Piqué. They posed for photos and gave interviews, and finally, they donned the Barça kit and participated in promotional activities for the new Nike boot Hypervenom. The only player to miss the Hypervenom promotional activities was Piqué. The full back wears Nike boots, but his boot model is different from the Hypervenom.
– While Neymar, Adriano, Alexis and Piqué were at the Nike event, the rest of the players at the team hotel were also busy. Xavi, Bartra, Busquets, Alba and Song signed autographs and posed for photos with some of the sponsors of the tour.