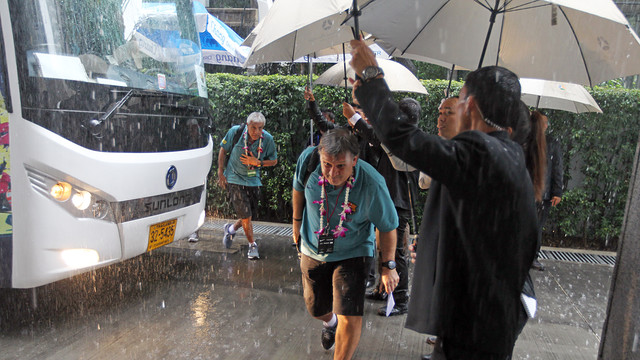 The daily occurrences of Barça's travels through Asia
The Barça veteran
The individual with the most experience on this Barça Tour is José María 'Chema' Corbella, Barça's equipment manager. Chema has been the first team's equipment manager for 34 seasons. Before that, he had other duties as a Barça employee.
At the end of each day we'll go over the interesting stories, anecdotes and give a bit of inside information from FC Barcelona's 2013 Asia Tour. Perhaps some of these stories, when told on their own, don't merit their own posts, but when told in concert they give insight into what the Barça players experienced that day. Let's start, these are the stories from Barça's first 12 hours in Bangkok:
• This is the first time Tata Martino has been to the Thai capital. The manager explained that he'd never been to the country, but he has visited other parts of Asia, like Singapore, in 1983 with the Argentina national team, and more recently when he visited Hong Kong and Japan, when he was manager of the Paraguay national team.
• Which players will make their debut in a Barça Tour? The answers seems fairly simple to ascertain, but there are a couple of players you might overlook. The most obvious are Neymar, Dongou and Bagnack, but remember that last year Barça didn't go on tour, which means that Song and Jordi Alba are also newcomers to Barça tour. In addition to the players mentioned above, Cesc Fàbregas, who signed for Barça when the team was on tour in 2011, is yet another player enjoying his first Barça tour. In total, there are 6 debutants not counting the manager.
• What films were available on the flight to Bangkok? The most notable films were 'Lincoln', directed by Steven Spielberg starring Daniel Day Lewis, followed by Woody Allen's latest comedy 'To Rome With Love', starring Ellen Page, Alec Baldwin, Robert Benigni and Penélope Cruz, among many others.
• The plane chartered for the Asia Tour is of gigantic proportions. It's an Airbus A340-600, with 45 full flat-bed seats (which are occupied by the players and part of the technical staff), 38 business class seats and 212 coach seats. The majority of the seats are not occupied, only 131 passengers were on the flight from Tel Aviv to Bangkok.
• The flight to Bangkok took 10 hours and 15 minutes. The route to Thailand took Barça over Cyprus and Turkey seeing that flights over Iran are banned.
• President Sandro Rosell and vice-president Javier Faus returned to Barcelona after the Peace Tour, leaving vice-president Josep Maria Bartomeu as the most senior member of the Barça expedition. Bartomeu is accompanied by vice-president Jordi Cardoner and directors Jordi Moix, Ramon Pont, Dídac Lee and Josep Ramon Vidal-Abarca.